Carlos Delgado

By
.(JavaScript must be enabled to view this email address)
Friday - March 16, 2007
Share
|

Del.icio.us
|

Podcast
|
WineAndDineHawaii.com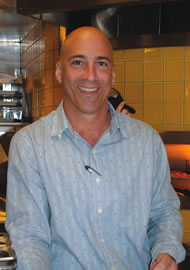 Carlos Delgado
Carlos Delgado is the director of operations for California Pizza Kitchen in Hawaii. CPK has four full-service locations in Hawaii (Kahala Mall, Ala Moana, Pearlridge Center and Waikiki), and the newest venture California Pizza Kitchen ASAP opened in Kailua in January. It's the first ASAP in Hawaii.
Where were you born and raised?
Born in Santa Monica and raised in L.A. I came to Hawaii in 1992, just in time for Hurricane Iniki!
What got you started in the restaurant industry?
When I was about 15, a good buddy of mine was working in a restaurant, and it looked like fun. I wanted to hang out with him, so I got a job as a dishwasher and began in the industry there.
What kept you in the restaurant business?
To be honest, I love cooking and eating, but it was initially the fact that the work was so much fun. That kept me interested and made me want to stay. It's still a lot of fun.
What's the top-selling CPK pizza?
Around the nation it's Original BBQ Chicken, and in Hawaii it's Thai Chicken. My personal favorite is Thai Chicken without the cheese.

What's always in your fridge?
Always something from CPK! I eat CPK five to seven times a week and bring home take-out at least four times a week. There are so many items that I like on the menu it's hard not to eat them weekly. You'd also find lots of fruit, steak and rice in the fridge.
What do you look for in great employees?
Personality. You can't teach it. Someone either has it or they don't. As long as they have a great personality and a willingness to learn, we can figure out the rest.
Can you give us an idea of some of the different menu items at California Pizza Kitchen ASAP?
Sure. We've added salads and sandwiches to our pizza menu, we have a grab-and-go counter for people who are on the run - and we have the greatest grilled panini!
Favorite movie?
It's a Wonderful Life. It's been a favorite of mine since I was a little kid.
Who would you most like to see walk through the door of CPK?
My son, who is no longer with us. And then probably Jimmy Stewart. I ran into him one time, but I'm not very outgoing in those kind of situations and I really regret not talking to him when I had the chance.
Most Recent Comment(s):