Carole Kai

By
.(JavaScript must be enabled to view this email address)
Friday - September 07, 2007
Share
|

Del.icio.us
|

Podcast
|
WineAndDineHawaii.com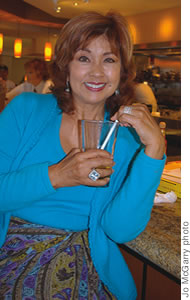 Carole Kai
Co-host and Executive producer of Hawaii Stars, Carole Kai is also the president of Carole Kai Charities, best known for beginning both the Great Aloha Run and the Carole Kai Bed Race. A lesser-known fact about Carole is her involvement with California Pizza Kitchen. She's been responsible for promotions and public relations for the popular restaurant chain since its opening in 1987. Here she talks about why she thinks CPK is so successful, her passion for helping others, the lasting inspiration of her mother, Ethel, and why she'd love to have a dinner date with George Clooney.
Where did you go to school?
McKinley, Washington and UH Manoa.
How did you come to be involved with the California Pizza Kitchen?
A friend of mine from California called to tell me that CPK was coming to Hawaii and at that time we were both on the board at the Variety School. We thought CPK might do their opening as a fundraiser. So I called co-owner Larry Flax and he said 'do you know anything about my restaurant?' And I said him, 'do you know anything about the Variety School?' We hit it off from there.
When you met Larry had you designs on working in this industry?
No, I just met him and then dragged him to parties all over town to meet people. He looks like a movie star! It was only after meeting and interviewing lots of people for the job, he asked me to do it. I've been with them ever since.
CPK at Kahala Mall is the biggest grossing outlet in the restaurant group – does that surprise you?
Well not now, but at the time I wasn't sure the location was going to be that great! And we've 5 CPK's in Hawaii now – 4 restaurants and one CPK ASAP (in Kailua) – with more to come.
Where do you like to eat out?
Morton's is a favorite – they make the best crab cakes – and I like Ruth's Chris Steak House and Romano's Macaroni Grill. I like Sabrina's in Kaimuki. Alan Wong's Pineapple Room for lunch – they have the best edamame. And of course I love CPK!
With all of the hats you wear, what is it about being involved with CPK that keeps you there?
Larry Flax and Rick Rosenfield are very fair people to work for. They have a 'promote from within' policy that encourages a lot of positive energy in the company. They are upbeat and exciting and employees feel valued and important.
Influences?
My mom – she told me that I could do whatever I wanted to and that obstacles were only opportunities. She had a tremendous desire to help people. She lived in the Kahaluu valley and was raised by true Hawaiians - real ambassadors of Aloha. She grew up with a great love of Hawaiian people and a desire to help others.
The charity work I do is in honor of her.
Who'd be your perfect dinner date?
George Clooney. We went to Lake Como last year and ate at Harry's Bar where he often arrives by boat or by motorcycle – but he never came!
What's always in your fridge?
Yogurt, nuts, dark chocolate, fruits, cheerios or some kind of cereal.
What's the future of Hawaii Stars?
This is our last year – we've been doing if for 13 years and we love it – but we're going to end this season. Our final winner is guaranteed an audition for American Idol in Philadelphia – so it should be exciting.
Most Recent Comment(s):