Chad Stephens

By
.(JavaScript must be enabled to view this email address)
Friday - June 30, 2010
Share
|

Del.icio.us
|

Podcast
|
WineAndDineHawaii.com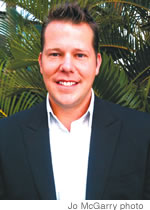 Occupation: General Manager, BLT Steak, Honolulu.
Where were you born and raised? I was born in Knoxville, Tenn., and moved to L.A. after I graduated high school.
What sparked your interest in the food and beverage world? I started when I was in college, and I fell in love with the food and wine business. I was blessed to work around several James Beard Award-winning chefs and some amazing food, and it was an easy decision to stay in the industry.
Do you cook at home? Yes, love to cook. Don't have a lot of time, but I do it when I can.
What's on the menu when friends come to dinner? I like to keep it simple: a really good lasagna, a little Italian antipasto salad ...
What's always in your fridge? Diet Coke.
One thing that makes BLT different from most steak houses is the regional influences of dishes. Yes, BLT (named for Chef Laurent Tourondel) is a twist on the great American steak house. When we opened the Atlanta store, it was so great to go back and get a taste of Southern food again. Laurent does dishes like grits and Gorgonzola buttered collard greens with bacon.
Favorite dishes on the Honolulu BLT menu? Tuna tartare - it's amazing - and the lobster Cobb salad. Although everything is really good. Our appetizers are really different from the norm.
With whom would you most like to have dinner with at BLT? Payton Manning.
Anything about you that would surprise people? I am a passionate sports fan, and I played college basketball at Pasadena.
Love the Lakers? Hate the Lakers. I could be one of the most passionate non-fans ever.
Most Recent Comment(s):