Chandra Lam

By
.(JavaScript must be enabled to view this email address)
Friday - August 26, 2009
Share
|

Del.icio.us
|

Podcast
|
WineAndDineHawaii.com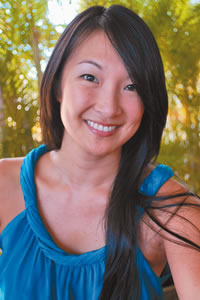 Job Title: Mixologist, Southern Wines and Spirits, Hawaii.
Where were you born and raised? Here in Honolulu. I went to Moanalua High School.
What inspired your interest in the food and beverage industry? I started working at Kincaid's when I was 15, as a hostess, and I absolutely loved the industry from the beginning. I loved the interaction with people most of all, and I actually worked in the industry to pay for school. So I spent years working in restaurants. But when I finally received my MBA, I got into finance and I absolutely hated it! I was rescued from there by a suggestion from a good friend that I turn to mixology, and I've been working at Southern for the past two years. It's a perfect fit.
What are some of the qualities you need to be a good mixologist? It's more than about mixing drinks! There's lots of reading, studying and exposing yourself to everything that's out there.
I'm constantly irritated that there are just so many "made-up" drinks on the market. There are new vodkas every month, phony cocktails,and drinks aimed at young people that have no taste but sugar. (laughs) As far as vodka goes, it's the most popular spirit category because it mixes well with anything, and people are comfortable with that. But I do agree that people are always looking for something new and trendy, and not really looking at what's already there. There are some great products that have been around for years that are worth looking at.
What do you drink on a night out? Usually a Hemingway daiquiri or a Pisco sour if I know the bartender can make a good cocktail. But if they're just slinging drinks, I'll have a Vodka Press. Something that can't be spoiled.
Favorite restaurants? I'm a big fan of Hiroshi's, and I love Formaggio. I really like Yakiniku Toraji on Kapahulu, and I love breakfast at Longhi's.
What's always in your fridge? Cheese and salami, and fresh fruits so I can mix drinks.
Who'd you most like to make a cocktail for? Probably Dale DeGroff, the master mixologist.
Most Recent Comment(s):