Chantal Weaver

By
.(JavaScript must be enabled to view this email address)
Friday - March 17, 2010
Share
|

Del.icio.us
|

Podcast
|
WineAndDineHawaii.com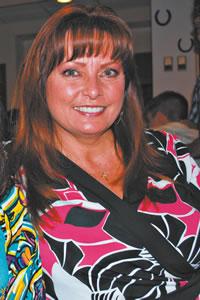 Where were you born and raised? Honolulu
Where did you go to school? Punahou and La Pietra
It's obvious to anyone familiar with the Spencecliff Corporation what got you started in the food and beverage industry. My father, Spencer Weaver, came here in the 1920s from New York on a round-the-world trip and saw a need for hot dog carts to service the beaches in Hawaii. He ended up shipping the first lunchwagons from the Mainland and servicing the beaches with food for the first time.
Was your first job in the industry? I actually got into modeling and that was my initial career, but later on my father had gone through so many different secretaries that he asked me one day to be his executive secretary. I started working with him, and from there I ended up working in all the different Spencecliff departments.
Including front of house? Yes, I worked as a waitress and hostess at one of our fine-dining restaurants. Then I went to Tahiti - where I also was partly raised - to manage our two hotels there. I was about 25, but I spoke French and Tahitian, and when my dad asked me to do it, I just did it.
What was it about your dad that made him so successful in the hospitality industry? I think he was a visionary. He wanted to be in real estate, but he had this vision, and in 47 years he had 56 restaurants, four hotels and 1,600 employees. What was innovative about him was that he started profit-sharing, so employees kept their eyes on things because they all owned part of the company.
Which restaurants are your favorites today? After my father sold the company, I didn't really know where to go (laughs). ... I still like the fine-dining restaurants as well as places for comfort foods like the new Ranch House. Haleiwa Joe's, Buzz's Steak House and Assaggio's are all favorites.
What's always in your fridge? Fruit, vegetables, chicken ...
With whom would you most like to have dinner at the new Ranch House?
I always thought I would have liked to have dinner with Frank Fasi, because he and my father had a controversy a long time ago and I would have liked to ask him his version of what happened.
Anything on the new Ranch House menu that reminds you of your dad's Ranch House? I think the prime rib is pretty darn close. The owners did ask for our input, so I've been helping to bridge the gap between the two restaurants - the old and the new.
Most Recent Comment(s):