Charles Higa

By
.(JavaScript must be enabled to view this email address)
Friday - April 20, 2007
Share
|

Del.icio.us
|

Podcast
|
WineAndDineHawaii.com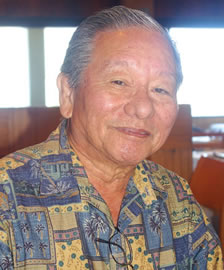 Charles Higa
Charles Higa is the co-founder of Zippy's, one of Hawaii's best-loved restaurants. With 24 Zippy's open to date and a 25th due to open on Maui later this year, Charlie reflects on life, local food and the origins of that famous chili.
Title Founder, Zippy's Restaurants.
Age 77
So how did Zippy's come about? Well, actually my brother Francis and I had decided to start another business but we weren't quite sure about it. We thought that drive-ins were popular and that that might make a good business. In 1966 we went to the bank to get a loan, but evidently they didn't think much of our idea, because we couldn't get a loan from any of the banks - no one trusted us, I guess. Finally we got some help from our lawyer to get us started and raised the rest of the money ourselves.
What was the initial food concept? Just local food. You know, beef stew, beef curry, chili. To give my wife Helen credit, my brother asked her to do the menu and that's how we started.
What do you remember about food from your childhood? My mom cooked and we always ate at home. We didn't know what a restaurant looked like. We ate every meal at home - we really liked my mom's food.
What are some of the dishes you remember from 70 years ago? We liked her soups. She used pig's feet and chicken feet - and I know some people don't like to eat this, but we loved goat's soup. We raised our own goats and we ate the whole thing.
Do you remember the first time you ate in a restaurant? I think it was after high school sometime, I don't really remember too much about it.
How about nowadays? Where do you and Helen like to eat? We love to go to Alan Wong's on S.King Street and to The Pineapple Room. We like Hoku's and we like to eat Japanese food anywhere that's good.
How did you come up with the recipe for the chili?
We fired our chef on Thanksgiving Day and I wasn't sure we'd be able to make the chili. But my wife Helen remembered all the ingredients, and wrote them down. I made it and it started from there. We used to use a 13-gallon pot. Now we make 250,000 pounds of chili a month..
Most Recent Comment(s):