Charles Lennox

By
.(JavaScript must be enabled to view this email address)
Friday - August 11, 2006
Share
|

Del.icio.us
|

Podcast
|
WineAndDineHawaii.com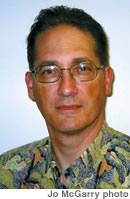 Charles Lennox
Charles Lennox is the new director of food and beverage at The Kahala Resort. He's no stranger to the industry, having worked most recently as director of operations at the Regency Club in Los Angeles, and previously at the Regent Beverly Wilshire, and in Beverly Hills. This is a return to Honolulu for Lennox, who was with The Halekulani for 17 years.
Age: 50
Where did you grow up/go to school?
Born in Hilo, lived for my first years in Pahoa. I have lived on Kauai, Oahu, Maui, Molokai and Hawaii, graduated from James Campbell High School.
What started your interest in the industry?
I remember starting to cook for the family when I was 8 years old, and falling in love with making people happy through pleasures of the table. My interest in hospitality grew from there. I tried my hand at other things, yet nothing meets the excitement I get from this work.
Who has influenced you most in your career, and why?
Joan E. Lennox - my mom - who passed away six years ago. I still reflect on things she said and did. Her effect on my life is immeasurable. Boy Scouts of America - they helped me build my character and my values. My wife, Amy. Robert Sikora for telling me I would never amount to anything and making me vow to prove him wrong. Robert Burns for his professionalism and his inspiration to service. Jean-Pierre Doss, Manvinder Puri, Gerard Agid and Fred Honda for challenging me, letting me run with the ball, and for being there when it was important.

Favorite dish at Hoku's?
It is hard to beat the Salt Crust Lamb for its flavor and aroma!!
Where do you like to eat locally when you're not at The Kahala?
I love dim sum, potstickers, spicy dried orange peel chicken, charbroiled Kobe steaks, creative sushi, stuffed French toast, tan-door chicken, pho, and peanut butter and jelly sandwiches.
Favorite dishes?
The old Woodlands restaurant for potstickers. Chun Wa in Pearl City for baked char siu bao.
What's always in your fridge?
Chopped garlic, white and brown miso, soy sauce, fresh fruit, multigrain bread.
Favorite late night snack?
Ak Mak with a really ripe Brie. (Ak Mak is an Armenian whole-wheat lavosh-type cracker.)
How do you describe the restaurant to people who have never been?
Contemporary island cuisine, blending Asian, Hawaiian and European flavors and cooking styles to achieve a unique end product.
With whom would you most like to have dinner?
I think a small table with Julia Child, Alton Brown, Rachael Ray and James Beard would be a fantastic table.
What's important to know about the food and beverage industry if you're just starting out?
It took me 25 years in the business 'til I thought I had a handle on some of it. Our business is always evolving. My coaching is to keep your eyes on the future, learn continually, and don't take yourself too seriously.
If you could choose one last drink, what would it be?
The 1947 Cheval Blanc I tasted in 1993 was outstanding. I'd like a sip of that again; it was such a memorable wine.
What's your idea of a perfect dining experience?
Caring, knowledgeable service staff, welcoming atmosphere, intriguing menu, well-selected wine list, sunset cocktail, live music, company, relaxed pace, good conversation, clean, thoughtful food presentation.
Most Recent Comment(s):