Charlie Longhi

By
.(JavaScript must be enabled to view this email address)
Friday - August 15, 2008
Share
|

Del.icio.us
|

Podcast
|
WineAndDineHawaii.com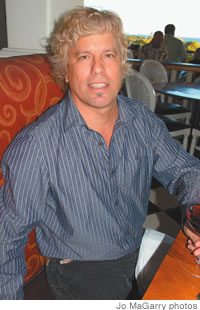 Charlie Longhi is the owner of Longhi's restaurant at Ala Moana Center.
Where were you born and raised?
I was born in Brooklyn, N.Y., and moved when I was about 4 years old to Washington. My dad moved over to Maui when I was about 14. I came, too, fell in love with Hawaii and called my mom to tell her I was staying.
You grew up around great food and the restaurant business. What was your first job?
The reason we started Longhi's was because my dad used to throw these huge parties in D.C. We'd all be involved - I was bartending at the age of 6! But my first "real" job was when I was about 9 or 10, working in this restaurant called The Jewish Mother in Virginia Beach. The owner was good buddies with my dad. And then, at Longhi's, I worked in Lahaina and was managing by default when I was about 15 or so.
So you were just learning the industry every day from a really young age.
Yeah, and also on Maui it was a great, great time to be in restaurants. Maui had such a great art and music scene - and so many people ate at Longhi's. I was making a salad in the kitchen one day and Marvin Gaye came in and told me, "That's the best salad I ever had."
I hear you're a pretty good musician, too.
I play guitar. Had my first gig at Longhi's in Lahaina. I studied music at college in Boston and I had a recording deal for a couple of years. But my dad was always asking me to come back to the restaurants, and finally I came back for good.
Your dad is famous in the restaurant industry. He's such a character and describes himself as the most opinionated restaurateur in the world. Was he always that way?
Always. For the first three years we were in Lahaina he didn't ever wear any shoes!
What's always in your fridge?
Good Italian wine, Parmigiano-Reggiano and fresh, locally grown basil.
What do you recommend people eat at Longhi's?
I recommend they eat family style - that's how the Longhis eat. Share your food. I love our eggplant and our lobster cannelloni. Our steaks are all prime, and we hand-cut them every day. We do a ribeye with balsamic reduction, which is great, and I love the prawns Venice, too. There's our fresh asparagus - oh, and you have to try the fresh clams with linguine ...
Anyone you'd love to see come to Longhi's for dinner?
Well, I've hung out with George Harrison and with Ringo Starr. I guess if there could ever be the dream dinner party, it would be to have the Beatles together again. And maybe Jimi Hendrix for drinks afterwards.
"My dad is ..."?
One of a kind.
Most Recent Comment(s):