Chef Jose"Pepe" Vega

By
.(JavaScript must be enabled to view this email address)
Friday - August 18, 2010
Share
|

Del.icio.us
|

Podcast
|
WineAndDineHawaii.com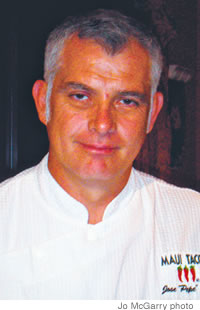 Occupation: Operations Director, Maui Tacos Hawaii
Where were you born and raised? Born and raised in Tepatitlan, Mexico. I moved to Oahu when I was 18.
What started your interest in cooking? My mom was a chef who had her own cooking school. Back then, women were the only students. I was shy and did not like being the only guy, so I refused to go in the beginning. But I was the oldest of my brothers and had to help Mom with her business. I enjoyed the cooking part and became interested in creating my favorite dishes.
First restaurant job? Outside of my mother's school, my first restaurant job was at Compadres Mexican Bar and Grill in Ward Centre. I started in 1985.
Where do you like to dine out? I like Saigon Cafe on Maui, Mala Ocean Tavern, Da Kitchen in Kahului, Alan Wong's and Poke Stop. I love ethnic foods.
Favorite dishes at any of those restaurants? Poke from the Poke Stop, Alii Mushrooms from Mala Ocean Tavern, Rice Pots from Saigon Cafe and anything from Alan Wong's menu.
Do you cook at home? Yes, I love to cook for friends and for my church. What's always in your fridge? Salsas or produce to make salsa, pestos and chimichurri.
Favorite dish that your mom used to make? Tamales - but it was painful for me. We had to stir the corn masa by hand and it was hard for a kid of my age. But, in the end, the reward was worthwhile. Those tamales were wonderful. Just thinking about them makes me hungry: fresh white-corn tamales or sweet tamales, mmmmm.
I imagine lots of famous people have had dinner at Maui Tacos. Any favorite celebrity who's been to the restaurant who you'd like to come back? Helen Hunt is very cool.
What about you might surprise people? My honesty, my work ethic and how lovable I am! And that I'm part of a leadership group in my church, Hispanic Catholics of Maui.
(On Oahu, Maui Tacos is located in Waikiki, Kailua and Mililani.)
Most Recent Comment(s):