Chef Mavro

By
.(JavaScript must be enabled to view this email address)
Friday - October 14, 2005
Share
|

Del.icio.us
|

Podcast
|
WineAndDineHawaii.com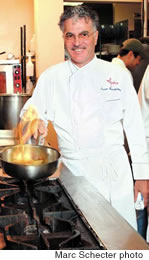 Chef Mavrodiv
George Mavrothalassitis is the chef owner of one of Hawaii's most prestigious restaurants, honored by The James Beard Society and by almost every national food writer worthy of the name. And this month, Chef Mavro was named as one of Gourmet Magazine's Best Restaurants in America for 2005. Chef Mavro began a love affair with local fish when he first came to the islands in the 1980, and is as passionate today as he was then about visiting the fish auction and pairing fish in exquisite partnerships with wine. The restaurant is located on South King Street. For a full review, check out wineanddinehawaii.com
Age: 59
First professional cooking job?
La Presqu'ile in Cassis.
What draws you to the kitchen - and keeps you going back?
The joy and fun of cooking - it's an emotion.
Who has influenced you most in your cooking career?
Gerard Vie, Les Trois Marches, in Versailles, because he was one of the first masters of nouvelle cuisine - he had so much creativity and talent. And Jean and Pierre and Michel Troigros, who taught me generosity.
Favorite dish at your own restaurant?
My next one! Or if you want to know from the new fall menu:
Jasmine Squab Salad: wilted dandelion greens, Big Island poha berries, poached egg with balsamic, jasmine vinaigrette
Wine Pairing: Vero, 2002 Pinot Noir, Burgundy, France.
Favorite dish at another Hawaii restaurant?
Yamitsuki - a natto and ahi combination at Izakaya Nonbei in Kapahulu.
What's changed most about your cooking in the past 10 years, if anything?
We are closer to simplicity now.
What's always in your fridge?
At home, white wine, Perrier, cheese, tomatoes, eggs, soy milk, Hawaiian chilies, apples (to go with my breakfast of oatmeal before I go for a run).
Favorite late night snack?
Cheese.
For whom would you most like to cook dinner?
My son Michel, who is a journalist in France.
What do you miss about living in France?
Not too much. I love it here.
The French style of celebration is something like a luau, with family and friends around a table that goes on forever with many courses and wines.
Are we catching up to the French attitude to dining - and taking a little longer over our meals?
Yes!
What ingredient can you not live without?
Garlic.
How would you describe your cooking?
Contemporary regional cuisine.
Describe your restaurant to someone who hasn't been there before.
People love the flavors of our cooking and the wine pairings - that's our specialty. Our lighting designers have made it a romantic restaurant so women look beautiful! We have a lot of business dinners.
How do you relax when you're not in the kitchen?
Swimming at Kaimana Beach.
Most Recent Comment(s):