Chef Mavro

By
.(JavaScript must be enabled to view this email address)
Friday - October 10, 2008
Share
|

Del.icio.us
|

Podcast
|
WineAndDineHawaii.com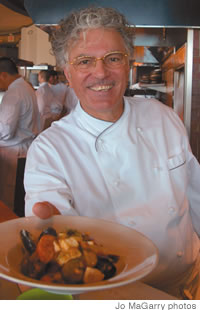 George Mavrothalassitis is chef/proprietor of Chef Mavro restaurant in Honolulu and a founding member of Hawaii Regional Cuisine. He was born in Marseilles and grew up around fishermen and the exquisite bounty of fresh food famous in the South of France. This weekend, as the 2008 Hawaii Fishing and Seafood Festival takes place, we catch up with Chef Mavro to chat about his earliest food memories, dinner with his favorite TV star and the best dish on the menu.
What's your earliest food memory?
Baby squid sautéed in squid ink. I was about 5 years old, and I can still taste it.
You're a founding member of Hawaii Regional Cuisine, and your passion for our local fish is well known. But what brought you to Hawaii?
I came to work at The Halekulani in 1988 and from that moment I felt that I had come home.
Who's had the most influence on your career thus far?
Gerard Vie, chef at Les Trois Marches in Versailles. He is without doubt the most creative and talented cook I have ever worked with. As well as his culinary skills, he always knew how important a sense of humor is in the kitchen.
You've had your share of food writers, gourmands and famous people visit your restaurants. Who would you most like to see come in for dinner?
My son Michel. He is a journalist in France and a gourmand with no mercy for his father, but I still love to cook for him. Beside him, Evangeline Lilly. She seems to always enjoy our food.
What's always in your fridge?
White wines and cheeses - most of the cheeses I like don't pair with red wine.
Do you cook at home?
Yes, almost every night after closing the restaurant. I cook, and my wife, Donna, shops and cleans up.
Your fall menu has just debuted, and you're also celebrating 10 years of Chef Mavro. What's your favorite dish on the menu at the moment?
Abalone ceviche with croquettes of cod, red chimichuri and essence of cilantro; and roasted squab pot au feu.
Where do you like to eat when you're not working?
Izakaya Nonbei on Kapahulu Avenue.
Best dishes there?
Yamitsuki (natto, ahi salad with nori).
How do you describe Chef Mavro to people who've never been?
Contemporary regional cuisine with a touch of French craziness and perfect wine pairings.
Most Recent Comment(s):