Cherie Pascua

By
.(JavaScript must be enabled to view this email address)
Friday - May 18, 2011
Share
|

Del.icio.us
|

Podcast
|
WineAndDineHawaii.com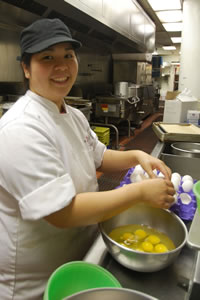 Title: Pastry chef at Hiroshi's Eurasion Tapas
Where were you born and raised?
Kailua, and I graduated from KCC.
What was it about being a pastry chef that attracted you?
I just always liked to bake. From when I was young, I always remember enjoying making desserts. I figured I might as well go to school and learn more.
What was the first thing you baked?
I don't know - box cake mix with my mom, I guess. Rice Krispie Treats. Nothing fancy. I liked to make simple things for birthdays and stuff.
Do you cook at home?
I was always more interested in baking, but yes I can cook.
What are you making for dinner?
Maybe beef broccoli or chicken long rice.
What's always in your fridge?
Right now my baby's breast milk. Other than that I go to the market every day to buy fresh.
Where do you like to eat when you're not working?
I don't really have a favorite place. I like to go Korean - to Millions - or sometimes I come here, or go to Sansei. It usually depends on my husband.
Who'd you most like to bake a cake for?
I don't know. I get really nervous, so I'd really not like to bake a cake for anyone important. Although I would like to meet Duff from Ace of Cakes. He seems like he'd be nice.
Do you watch the baking shows on the TV Food Network?
Oh, yeah, I love the Cupcake Wars and all those cake contests.
Do you think you'd hold up pretty well in a cake challenge?
I don't think so! (laughs) I like to take my time, be precise, accurate, that's the whole part about pastry.
What is it about the art of pastry and desserts that appeals to you?
Partly, it's about being by myself in the kitchen, taking time and putting what I have learned -and continue to learn - into practice.
Most Recent Comment(s):