Cheryl De Angelo

By
.(JavaScript must be enabled to view this email address)
Friday - March 03, 2006
Share
|

Del.icio.us
|

Podcast
|
WineAndDineHawaii.com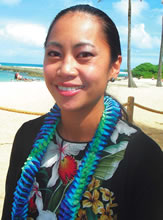 Cheryl DeAngelo
Cheryl DeAngelo is a co-owner with her husband Fred of the beautiful, new North Shore restaurant Ola, located on the beach at Turtle Bay Resort. Here she chats about her favorite food - you'll never guess what it is - and how she'd like to have Queen Lili'uokalani come for dinner.
Where did you go to school?
Kamehameha and UH.
Who's had the most influence on your life so far?
My mom. She's a really strong woman, and she taught all of us to work really hard and have big dreams. She taught us that the only way to get what you want is through working for it.
First job in the food and beverage industry?
I started bartending at 18 to put myself through college. I was a bartender at Side Street Inn for years and worked with Colin (Nishida) on the catering side of their business.
Favorite restaurant apart from your own?
Tokkuri Tei - I love sushi. For Mexican, then we always go to El Charro. I like Roy's for special occasions.
Favorite dish at any of these places?
I know it sounds weird, but I really love the cow tongue at Tokkuri Tei. They cook it on a skewer - grilled over an open flame - it tastes really good. You have to try it!!
Who would you most like to host for dinner at Ola?
Queen Lili'uokalani. She is such a significant person in Hawaiian culture. Our culture is extremely important to us, and we want our restaurant to be a place where people know that they are seeing something of Hawaii when they are here. I'd like to see if she approves of what we're doing - and if she thinks we're doing a good job.
What's always in your fridge at home?
Butter.
Favorite late night snack?
Popcorn with extra extra butter!
Who cooks at home?
Fred - he always cooks.
Describe Ola to people who haven't yet been.
To me it's one of the most beautiful places on Oahu. The people who work here make it a very warm place to be. And it has a great aloha spirit - which hopefully you can feel the minute you walk into the restaurant.
Most Recent Comment(s):