Chris Colgate

By
.(JavaScript must be enabled to view this email address)
Friday - July 15, 2009
Share
|

Del.icio.us
|

Podcast
|
WineAndDineHawaii.com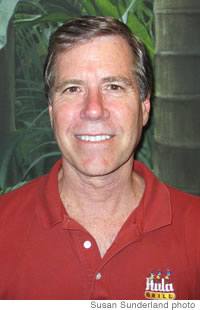 Jo McGarry is on vacation; This story is written by Susan Sunderland.
Title: Oahu regional manager, Duke's Waikiki and Hula's Grill Waikiki. Newly elected chair, Hawaii Restaurant Association.
Where were you born and raised? Born in Los Angeles. I attended Notre Dame High in San Fernando Valley and graduated from San Diego State with a bachelor's degree in environmental biology. I moved to West Maui in 1978 to operate a restaurant on Kaanapali Beach for six months and never left.
As incoming chair of HRA, what is your role? Our trade organization promotes the restaurant industry throughout Hawaii. It also acts as a lobbying force with legislative bills in the Senate and House that affect our industry.
What priorities does the organization have? We are continually working to develop awareness of legislation and issues that are impacting our industry, such as the credit card bill, menu labeling and proposed tip-credit bill. HRA also promotes the many "world-class" dining establishments here in Hawaii and ardently supports the development of the new Hawaii Culinary Institute of the Pacific, scheduled to open at the base of Diamond Head.
What does it take to make it in this business? Not only does it take hard work but also passion for ho'okipa, which means to entertain or hospitality. It also is vital to be able to lead your staff in the pursuit of kina'ole (perfection) with the ultimate goal to exceed our guests'expectations and provide everyone with a great dining experience. It is also vital for our staff to understand the importance and relationship of host, guest and place. Great employees are what it takes!
Where do you like to eat when you go out? I enjoy all types of food. Sometimes I like to put on my shorts and flip flops and go casual. Other times my wife, Barbara, and I enjoy dressing up and experiencing the many fine-dining restaurants Hawaii has to offer. For me, what's important is the successful execution of a concept, and that usually comes down to three things: service, quality and cleanliness.
With whom would you most like to have dinner? My wife and good friends. The conversation is always lively and interactive. But if this question is more imaginative, I would select Duke Kahanamoku. He was the ultimate host and world-class athlete. It is often said by people who knew him that he truly embodies the aloha spirit and ho'okipa.
What's always in your fridge? Shoyu, wasabi, Coaches Oats, fresh fish, sweet onions, fresh garlic and, of course, good wine and a couple bottles of beer.
Anything about you that people would be surprised to know? I'd rather be surfing uncrowded waves or snowboarding deep powder than working!
Duke's Waikiki; Hula's Grill 2335 Kalakaua Ave. 922-2268
Most Recent Comment(s):