Chuck Furuya

By
.(JavaScript must be enabled to view this email address)
Friday - July 29, 2005
Share
|

Del.icio.us
|

Podcast
|
WineAndDineHawaii.com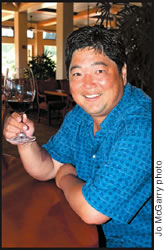 Title:
Master Sommelier
Age:
51
First professional wine job?
I was the head sommelier at the Kahala Hilton, back in the early '80s sometime. It was a dream opportunity. The hotel had an incredible clientele, and we were able to be very progressive with our wine program. In addition, this was a time when premium "boutique" wines were just starting to make a splash … especially here in the Islands.
Who has influenced you most in your career?
Nunzio Alioto. I would not be a master sommelier if it were not for him and his wife, Joanne. Interestingly, last year at the Star Wine event in Philadelphia, Nunzio was selected as "Sommelier of the Year" (for the world!) —quite an amazing and much deserved honor.
Favorite dish at your own restaurant?
Hiroshi Eurasion Tapas: Kampachi Carpaccio with his contemporary ponzu and truffle oil Vino: Hauula Tomato Caprese dk Steakhouse: aged rib eye on the bone
Favorite dish at another Hawaii restaurant?
Roy's: Asian styled poke Alan Wong's: Tomato Tomato Tomato Leong's Hawaiian Café: beef luau and pipikaula Side Street Inn: pork chop Café Laufer: sandwiches with fresh bread
What's always in your fridge?
Chili pepper water, unsweetened oolong or green ice tea and, of course wine.
Favorite late night snack?
My partner, DK Kodama, makes a mean truffled crab ramen.
Whom would you most like to have dinner with?
In the ol' days, on a very regular basis, I used to just open up my garage and Roy, Alan, Hiroshi, Dean Okimoto used to come over. We used to hibachi foods, drink a little, talk story a lot and have a great evening together. I really miss that.
To whom would you most like to serve wine?
As you can imagine being the head sommelier at the Kahala Hilton, as well as managing Bagwell's 2424 and La Mer Restaurant at the Halekulani, and doing events like "Cuisines of the Sun" and the Visiting Artists program on Lanai, I had the opportunity to serve wine to a wide array of people. I must say, however, today, if there was another one person, I wish it could be my dad.
Is there a wine you can't live without?
That's a hard question for me, and interestingly, one I am asked very frequently. The way I look at this is — I cannot choose. It would be like asking me if I prefer my daughter or my son better. Why do I have to choose? Why can't I appreciate and love each for what and who they are? Furthermore, different occasions, different times of the day, of the seasons,what mood I am in,what kind of food, what kind of ambiance and much more greatly affect what I am looking to sip on.
Please recommend some great wine values.
Esser Chardonnay
Cusumano Insolia
Bricco Buon Natale Barbera
Josef Leitz Riesling "Dragonstone"
CF Euro-Asian Riesling Medium Dry
Ruggeri Prosecco
Clos La Coutale Cahores
Most Recent Comment(s):