Chuck Furuya

By
.(JavaScript must be enabled to view this email address)
Friday - February 09, 2007
Share
|

Del.icio.us
|

Podcast
|
WineAndDineHawaii.com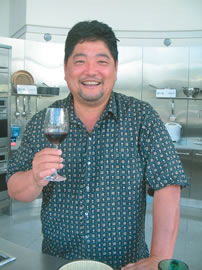 Chuck Furuya
Master sommelier Chuck Furuya is one of Hawaii's leading wine experts. He consults to the trade, is a partner in a group of restaurants, both here and on Neighbor Islands, that includes Sansei Seafood Restaurant and Sushi Bar, Vino, Hiroshi's and d.k's Steak House. His passion is delightfully contagious, and his wine lists among the most interesting and well-priced in the Islands.
What ignited your interest in the food and beverage world?
I worked as a waiter to help put myself through college.
Influences early in your career?
The people who had the most significant influences early on for me were Nunzio Alioto (now a master sommelier as well) and his wife Joanne of the former Alioto's restaurant, Arlene Tanaka, and Charlene (Charlie) Goodness, the legendary manager of Kahala Hilton's Maile restaurant.
What's been the most exciting development in food and wine in the past 10 years?
The development and emergence of Hawaii Regional Cuisine. Now it's looking to the next generation.
Who do you most admire right now in the culinary world?
I know this will sound self-serving, but I have to say my partner, D.K. Kodama. I love his passion for good, tasty food and truly admire his total proactiveness, especially in problem-solving.
What do you look for when you taste "new" wines? What makes you think "this is a great fit for Vino"?
For wines in general, I look for wines that taste of the region (not just of the grape or oak barrels), have good intensity and concentration, flow seamlessly and completely from beginning to end, and finish un-oaky, un-alcoholic and un-bitter, and therefore better suited for foods.
Where do you like to eat when you're not at one of your places?
There are so many restaurants I enjoy, like Side Street Inn, Cafe Laufer, Alan Wong's, Roy's, Chef's Table and Tropics Diner, Ethel's, Happy Day. I really miss Leong's Hawaiian Cafe!
Favorite dishes?
Side Street: Pork Chops; Tropics: Ahi Poke; Ethel's: Ahi Tataki; Happy Day: Abalone and Chicken Soup.
If you had to use a wine term to describe yourself, what would it be?
Still has a ways to go.
What's always in your fridge?
Chili pepper water.
Wine pick for a perfect Valentine's gift?
Diebolt-Vallois Brut "Tradition" - a very pretty, delicately nuanced artisan, handcrafted Champagne with tiny, tiny bubbles.
Most Recent Comment(s):