Clayton Babas

By
.(JavaScript must be enabled to view this email address)
Friday - February 17, 2010
Share
|

Del.icio.us
|

Podcast
|
WineAndDineHawaii.com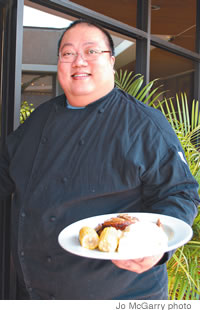 Job Title: Executive Chef, The Ranch House
Where were you born and raised? Here on Oahu. I'm a Radford High School grad.
What sparked your interest in the food and beverage industry? My whole family has been in the kitchen either cooking or managing restaurants. I always seem to have been involved with food. I think from about the time I was 10 years old I knew I wanted to cook as a career.
Things are pretty busy here at The Ranch House. Do you still cook at home? (laughs) As much as I can, but I'm not cooking too much at home since I started working here!
What's always in your fridge? Always lots of vegetables and fresh fish.
Favorite kitchen appliance or gadget? I love my Kitchen Aid mixer with all the attachments. I am able to not just mix and bake, but make pasta, fresh fruit juice, grind my own meat and slice or shred vegetables.
Obviously it's pretty easy to describe the food here, but how do you describe it? I think the food that we cook is food that brings back memories for people. It's the kind of food that someone who loves you will make for you.
Where do you like to eat when you're not working? Japanese restaurants, mostly. I love Shokudo for the bento lunches, and there's a little place at Ward Centre called Sushi Masa that is really good. I've been going there for years, and I always leave the food up to the chef. It's worth a visit.
Who have been your culinary mentors? No one in particular, but I've always been amazed by the Hawaii Regional Cuisine chefs and their use of local products combined with their classical backgrounds. It's something I'm always striving to do, and I really gravitate toward local produce.
I know you worked on Guam for a while. What did you do there? I opened up the Outrigger Resort and worked in some fine-dining restaurants, and I also taught at the community college.
How's the dining scene on Guam? It's pretty much geared toward the Asian market, and there are large Korean and Chinese influences. The local dining is really quite good. And there's an emerging culture of local fusion food.
Whom would you most like to see come to The Ranch House for dinner? It would be nice to see Emeril or Chef Morimoto. I hear that they're both coming to town soon.
Most Recent Comment(s):