Colin Nishida

By
.(JavaScript must be enabled to view this email address)
Friday - July 02, 2005
Share
|

Del.icio.us
|

Podcast
|
WineAndDineHawaii.com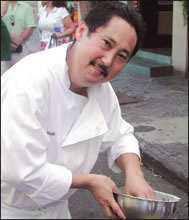 Title:
Chef/owner of the highly successful Side Street Inn and Fort Street Bar and Grill.
Age:
48
First professional cooking job?
In 1972 I worked as a dishwasher/ cook at C's Diner in Kalihi.
Who has influenced you most in your cooking career?
My parents. When I was growing up we all had to take turns getting dinner. First person home made the rice, next person started on the meat or whatever. Cooking dinner was a family chore, and from about the age of 11 I started to learn that cooking was something everyone got involved in.
Favorite dish at your own restaurant?
Pan-fried island pork chops and beef tomato (special).
Favorite dish at another Hawaii restaurant?
There are several, depending on where I'm eating. At 3660 On the Rise it's Russell Siu's steamed fish. At Roy's it's his meatloaf and at Alan Wong's it's the rib eye.
What's always in your fridge?
Kim chee. I try every variety I can find. I love just checking out the different recipes, and I try any I can get my hands on.
Favorite late-night snack?
Plain and simple saimin. The packaged kind, or sometimes I buy fresh.
Who would you most like to cook dinner for (living or dead/)?
You know, I've cooked for more people than I ever could have imagined. Presidents, ambassadors, great culinary stars, most of the well-known chefs. I mostly really enjoy cooking for restaurant chefs. It's really rewarding when you're cooking for guys like Alan Wong and those guys, and they're just grinding and having a good time and there's nothing left on the plates. That probably gives me the most pleasure.
What ingredient can you not live without?
Salt and shoyu.
How would you describe your cooking?
It's totally local, ethnic food.
Describe your restaurant to someone who hasn't been there before.
A local-style pupu bar.
How do you relax when you're not in the kitchen?
At home. I have eight dogs.
Most Recent Comment(s):
Commenting is not available in this weblog entry.