Conrad Nonaka

By
.(JavaScript must be enabled to view this email address)
Friday - September 08, 2006
Share
|

Del.icio.us
|

Podcast
|
WineAndDineHawaii.com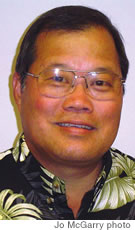 Conrad Nonaka
Conrad Nonaka is the director of The Culinary Institute of the Pacific. He brings passion, determination and a positive attitude to an industry that is growing by leaps and bounds.
Age: 57
Where did you go to school?
Waimea High School, Kapiolani Community College and University of Hawaii- Manoa.
First professional position?
Line cook, King's Bakery Coffee Shop. I started there in 1968 and earned $1.60 an hour!
Who has influenced you most in your career?
In the '60s, instructors like Shiro Matsuo, Siegfried Wiegand, Joe Kina and Dr. Lawrence Zane. In the '70s, my drill Instructor in the U.S. Army, my wife Susan and my superiors at Sheraton like Stanley Takahashi, Richard Hashimoto, John Brogan and Ernest Nishizaki. In the '80s, meeting chefs like Alan Wong, Roy Yamaguchi and other committed and passionate chefs. In the '90s, corporate leaders in Asia like Ted Teng, David Shackleton, Jim Boyles and other hoteliers I worked with.
Currently there are too many to mention.
And why?
All of these people demonstrate very special traits. Some break barriers and have already achieved greatness in their careers. I'm very motivated by the fact that if they can do it, so can I. I was taught very early on to have a positive outlook as well as a strong work ethic, stamina, high pressure and perseverance. To me, it's important to surround yourself with positive people - both professionally and personally.
Some of your favorite Hawaii restaurants?
Alan Wong's, Roy's, Hiroshi's, Zippy's, Side Street Inn ...
Are you always "working" when you eat out?
It is in my blood and what I was trained to do! As a certified executive chef, food and beverage director, hotel manager, general manager, business owner and in my current position as director of the Culinary Institute of the Pacific, food and service are always on my mind.
Do you cook at home?
Yes, I love cooking at home, especially when I'm at home on Kauai.
Favorite late night snack?
Saimin or ramen.
There's a lot of buzz on the culinary scene right now. How would you describe the state of Hawaii's cuisine?
Exciting and great. Look how many Izakaya-style restaurants have opened in the last two years. Look at Ala Moana Center; the Outrigger project renovation, and The Royal Hawaiian Shopping Center in Waikiki. This is an exceptional time for culinary and hospitality students to learn firsthand what these places offer. Culinary students no longer need to travel to the Mainland to get an idea of "big time" restaurants. They're all here. It's also a time for all owners to be on their toes, to revisit their menus and their training methods. Staff training is playing a much more important role in the guest experience. On the downside, I do believe that many restaurants will lose some level of guest count with the increase in new restaurants this year, at least initially.
How would you describe your teaching style?
Teaching in our industry is not for everyone. If you want to be considered a highly qualified teacher, you have to do it through true dedication, passion and hard work. Unlike courses like math and general courses that only require a college education to teach, chef instructors need years of experience before they can be effective in providing an exceptional training program.
I truly believe that it is the right time to bring an advanced culinary training program to fruition in Hawaii.
Most Recent Comment(s):