Conrad Nonaka

By
.(JavaScript must be enabled to view this email address)
Friday - July 25, 2008
Share
|

Del.icio.us
|

Podcast
|
WineAndDineHawaii.com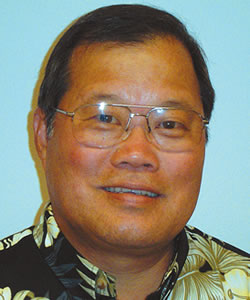 Conrad Nonaka is the director of The Culinary Institute of The Pacific at Diamond Head. Here he chats about his early influences and why he hopes that Hawaii's inaugural Restaurant Week (Nov. 16-22) will be a big success.
Age: 57
Where did you go to school?
Waimea High School, Waimea, Kauai, Kapiolani Community College and University of Hawaii-Manoa.
First professional position?
Line cook, King's Bakery Coffee Shop. I started there in 1968 and earned $1.60 an hour.
Who has influenced you most in your career and why?
In the '60s: instructors like Shiro Matsuo, Siegfried Wiegand, Joe Kina and Dr. Lawrence Zane.
In the '70s: my drill instructor in the U.S. Army, my wife Susan, and my superiors at Sheraton like Stanley Takahashi, Richard Hashimoto, John Brogan and Ernest Nishizaki.
In the '80s: meeting chefs like Alan Wong, Roy Yamaguchi and other committed and passionate chefs.
In the '90s: corporate leaders in Asia like Ted Teng, David Shackleton, Jim Boyles and other hoteliers I worked with. Currently there are too many to mention. All of these people demonstrate very special traits. Some break barriers and have already achieved greatness in their careers. I'm very motivated by the fact that '"If they can do it, so can I." I was taught very early on to have a positive outlook as well as a strong work ethic, stamina, high pressure and perseverance. To me, it's important to surround yourself with positive people - both professionally and personally.
Favorite restaurants of the moment?
Too many to mention, as I do try to patronize all of the restaurants that do support the Culinary Institute of the Pacific at Diamond Head (CIP-DH) and give back whenever I can.
What's the purpose of restaurant week?
To demonstrate the spirit of partnership between the CIP-DH, Hawaii chefs, restaurateurs, vendors and distributors, local farmers, corporate supporters and the media. The purpose is to showcase the quality and diversity of restaurants in Hawaii and present an opportunity for residents to dine out and stimulate the economy. At the same time, we want to create a buzz and generate awareness about the CIP-DH and raise capital for the new advance culinary training facility on Diamond Head. Restaurant Week Hawaii is a reminder that Hawaii is a culinary destination, with top chefs, farm-to-table dining, wonderful wine and a lot more to discover and explore.
How many restaurants do you hope will participate?
We want to have all restaurant segments from fast food, family dining, specialty restaurants and fine dining represented. We believe that this will be a great tool for the industry to put their best offering forward to entice the community to give their restaurant a try.
Most Recent Comment(s):