Conrad Vincent Pereira

By
.(JavaScript must be enabled to view this email address)
Friday - March 30, 2011
Share
|

Del.icio.us
|

Podcast
|
WineAndDineHawaii.com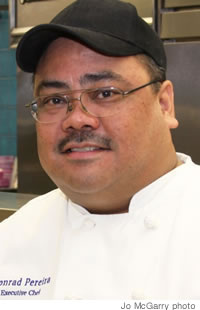 Occupation: Executive Chef, Straub Clinic and Hospital.
Where were you born and raised? Born in Hilo, raised on Oahu.
What started your interest in the culinary field? It was by accident when I ran into a friend who was a general manager at a restaurant and needed a cook over the summer.
First memories of food or cooking? My mom teaching me how to make pancakes.
First job in the industry? Grill cook at the Rose City Diner in Restaurant Row. Memories include big burgers, waitresses on roller skates and shooting toothpicks in the ceiling.
March is Healthy Nutrition month. Any ideas on how people can incorporate some healthy tips into their own diets? For me, portion control is most important, because growing up in Hawaii we are raised to eat large portions. I think everyone's grandmother tried their best to get their grandkids to go back for seconds and then dessert. I'd like to see more people trying to cook at home, because you can control ingredients like sodium or sugar.
Many people might not realize that you have a healthy, affordable cafeteria at Straub. How do you keep the food tasty but healthful? Using fresh ingredients gets the best results every time. Also, using lean cuts of meat and making good substitutions. Chicken breast instead of thigh meat, pork loin instead of pork chops, etc., can cut a lot of fat ...
Favorite restaurants in Hawaii? Alan Wong's, Sushi Sasabune, Bangkok Chef, Hale Vietnam.
Do you cook at home? I do cook at home when time permits.† My dad seems to like my oxtail soup a lot.
What's always in your fridge? Sliced turkey, fresh fish (whatever is fresh at the market), yogurt, grapes.
Favorite kitchen implement/tool? My trusty ol' 8-inch Chinese cleaver. I can (and do) cut everything with it.
Which chefs do you most admire and why?†All of the Hawaii Regional Cuisine chefs. They made a contribution to the Hawaii culinary scene that has put us on the map as not just another tourist destination. Their dedication and vision implemented through their dishes has reached a wide audience, and it is because of this that chefs like myself enjoy our challenging careers. Living up to the standards that they all have set is the ultimate goal.
Most Recent Comment(s):