Curtis Ogata

By
.(JavaScript must be enabled to view this email address)
Friday - May 07, 2005
Share
|

Del.icio.us
|

Podcast
|
WineAndDineHawaii.com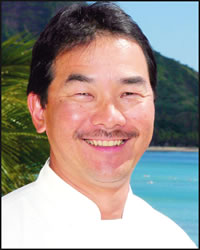 Title: Executive Sous Chef Sheraton Waikiki, Ocean Terrace
Age? 47
First professional cooking job? I worked at St. Francis Hospital as a dietary aide when I was 16.
Who has influenced you most in your cooking career? There are so many individuals, but a few names stand out. The first is Martin Wyss, who was the executive chef when I was working at the Kahala Hilton. Also Albert Schnell, who was the corporate chef for Hilton Canada. Lastly, executive chefs Phillipe Padovani and George Mavro from my days at the Halekulani were extremely influential.
Favorite dish at your own restaurant? I love our holiday/special menus, such as our upcoming Mother's Day brunch. We go above and beyond for these custom buffets. I also enjoy our misoyaki butterfish from our a la carte menu and breakfast buffet (Tuesday, Thursday and Saturday).
Favorite dish at another Hawaii restaurant? Alan Wong's Ginger Crusted Onaga. I also enjoy frequenting Chai's Island Bistro.
What's always in your fridge? Milk and foods my kids like.
Who would you most like to cook dinner for? I love cooking for my family.
What ingredient can you not live without? Love. You need to have passion and love for cooking to be a successful chef.
How would you describe your cooking? To keep up with current trends, I combine classical, Pacific Rim and Hawaii flavors in my signature dishes. My local roots are also demonstrated in my dishes.
Describe your restaurant. The Ocean Terrace offers high-quality service and food with a million-dollar view. It is right on Waikiki's white sand with Diamond Head in the background. It is a great place for family gatherings or a romantic dinner.
How do you relax when you're not in the kitchen? Coaching baseball.
Most Recent Comment(s):
Commenting is not available in this weblog entry.