D. K. Kodama & Mom, Sandy

By
.(JavaScript must be enabled to view this email address)
Friday - May 12, 2006
Share
|

Del.icio.us
|

Podcast
|
WineAndDineHawaii.com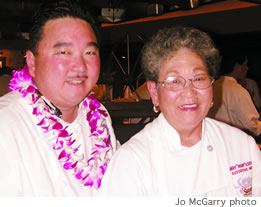 D. K. Kodama & Mom, Sandy
To say that Sandy Kodama is a "behind the scenes" force in the restaurant industry is really to belie her talents. She is "executive mom" at d.k's Steakhouse in Waikiki and at sister restaurant Sansei Seafood Restaurant and Sushi Bar. And although she might let you believe she works behind the scenes, she is the face of these restaurants and the one person guests look for when they arrive. At dinner, guests are greeted by Sandy's huge smile, twinkling eyes and warm hugs. Oftentimes she'll scoop up restless toddlers so parents can enjoy a rare uninterrupted dinner. In many ways she is the ultimate mom.
What's your real name?
Well, Sandy is a nickname. My grandfather named me Sunao. He was a Christian minister and he took the name from the Bible. It means "truth and honesty." But in Japanese, the first part of my name, Suna, means sand - so people began calling me Sandy and it's been that way ever since.
How old are you?
I'm 75 years old and I've been married to my husband for 54 years.
Where were you born and raised?
I was born in New York City and then raised in Hawaii. My father owned a bookstore, and during the Depression decided he couldn't raise his family in New York - nobody buys books during a depression. So he moved back to Hawaii and we were raised in Wahiawa.
Was cooking always a big part of your life?
Oh, yes. We had six children - five boys and one girl - and we had Grandma living with us too, and we had only one income. I stayed home to care for the children, but my husband liked to have a lot of food on the table each night. Always a lot of different dishes. We didn't have much money, but we never stinted on food or on doctor's bills.
What are some of the favorite dishes you remember making for the children?
They had so many favorites. One I remember best was I'd buy a huge can of luncheon meat, cube the meat and marinade it in sugar and shoyu to make a teriyaki sauce. They all loved that over rice.
Did your kids always help out in the kitchen?
No. They never did! I always had to do things quickly and so I really did most of the things myself. I never gave them chores! I did make sure, though, that they all knew how to wash and iron clothes - and everyone did eventually learn to cook.
Do you eat at Sansei or d.k's, or do you eat at home most nights?
I eat at the restaurant every night. I have about two tablespoons rice and some salmon sashimi each night and I'm happy.
Whom would you most like to host for dinner at Sansei?
Oh, Maya Angelou and Oprah Winfrey. I met Maya Angelou over a breakfast a few years back and she was just mesmerizing. She really won my heart. It would be fun to have dinner with those ladies, don't you think?
How do you keep up the relentless pace? You take care of your grandkids, and host at the restaurants almost every evening. What keeps you going?
I do have a lot of energy. I feed off people and I really like to stay with positive people all the time. I think that the positive energy has an effect - and if there are negative people around, well I just try to draw the positive from them too.
Any advice for moms beginning to raise a family?
Love all of your children. Love them equally - that's all you can do. I mean it so emphatically when I say that - really love them.
Most Recent Comment(s):