Daniel Dae Kim

By
.(JavaScript must be enabled to view this email address)
Friday - March 04, 2009
Share
|

Del.icio.us
|

Podcast
|
WineAndDineHawaii.com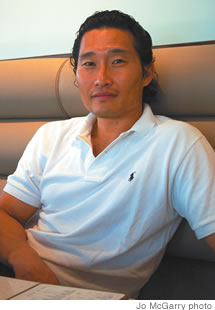 Profession: Actor
Where were you born and raised? I was born in Korea and moved to New York when I was 18 months old. I spent most of my childhood in a small town in Pennsylvania.
Was acting always something you wanted to do? Not really. It happened because I ended up going to a very small college where there was a lot of opportunity to take classes based on your interests. I decided to take acting (classes) and immediately fell in love with it.
Were your parents supportive, or did they want you to get a "real job"? (Laughs) I was discouraged by my parents once they knew I was serious about it. They thought my talents could be better served elsewhere.
Did you grow up eating Korean food? Yes, 80 percent of the time I ate Korean food my mom cooked.
Everyone has a dish that reminds them of their mom. Do you? Yes. She makes this special stew of codfish that I love - no one makes it like my mom. She made all the kim chee in our family, too. We came from a small fishing town in Korea, and our kim chee always had shrimp and oysters inside mixed with the cabbage. It's very rare, and has a very distinct flavor you don't find anywhere else.
Favorite Honolulu restaurants? Well, The Counter, obviously, and my family. And I like cheap, good places to eat. We like Jimbo Noodles on South King Street. The noodles are handmade and my boys love noodles, so we go there a lot. I also like Side Street Inn - it's a great place to go for a good meal.
What's always in your fridge? I'm very particular about drinks, so cranberry juice - no sugar added - and always organic milk because I love my cereal in the morning.
Who would you most like to see at The Counter for dinner? This might sound like a cheesy answer, but my family. That's who I picture being here with me. That's one of the reasons I invested in the restaurant in the first place.
Do you want to share some secrets of this season of LOST with us? Lots of time travel, and you'll see the effect that it has on our characters. It's going to change their histories and their futures.
Most Recent Comment(s):