Daniel Delbrel

By
.(JavaScript must be enabled to view this email address)
Friday - June 10, 2005
Share
|

Del.icio.us
|

Podcast
|
WineAndDineHawaii.com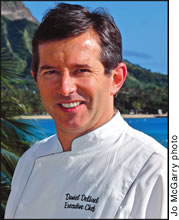 Title:
Executive Chef, Sheraton Waikiki and Royal Hawaiian
Age?
44 years
First professional cooking job?
I held my first professional cooking job at 18 years old working as an assistant chef at a restaurant in France.
Who has influenced you most in your cooking career?
There are countless chefs who have been influential in my culinary career. Living in Chicago for four years, a very food and restaurant forward city, I worked with Executive Chef Fernat Guterrez at the Ritz Carlton, who was one of many inspirations.
Favorite dish at your own restaurant?
The roasted Chilean sea bass with Australian blue shrimp, wasabi mashed potatoes, coconut ginger cream and kaffir lime leaf oil, baby bok choi and a Thai curry sauce at the Surf Room in the Royal Hawaiian.
Favorite dish at another Hawaii restaurant?
I love Japanese food, and often eat at Momoyama at the Sheraton Princess Kaiulani Hotel.
What's always in your fridge?
One thing I don't have is junk food. I eat healthy when I eat at home and always have fresh fruits and vegetables. I'll buy fresh fish as I need it, but my fridge is for the most part very simple.
Favorite late night snack?
I don't eat late at night, but tend to snack on vegetables, fruit, oatmeal and oat bran. Once in a while I will satisfy my sweet tooth with a pastry, but I usually snack pretty healthy.
Whom would you most like to cook dinner for?
I would love to cook dinner for President George W. Bush. I would also have loved the opportunity to cook for former President Ronald Reagan.
What ingredient can you not live without?
Fruits.
How would you describe your cooking?
I prefer to keep it simple. I think it is important to respect the natural flavor and essence of the featured ingredient you are preparing.
Most Recent Comment(s):
Commenting is not available in this weblog entry.