Danny Kaaialii

By
.(JavaScript must be enabled to view this email address)
Friday - March 31, 2010
Share
|

Del.icio.us
|

Podcast
|
WineAndDineHawaii.com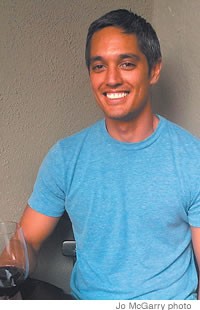 Age: 34
Where were you born and raised? Born in the Islands, but moved to Texas when I was 6. From then on it was winters in Texas and summers on the homestead in Nanakuli.
Where did you go to school? University of Texas at Austin ... Hook 'em, Horns!
Job title: Wine Steward
What does being a wine steward at Du Vin mean? Mostly it's about finding fun, approachable wines to turn people on to.
What got you interested in the world of wine and food? Like most things, if girls like it, guys will gravitate toward it. I quickly realized they were on to something.
First job in the industry? Line cook at a steak restaurant in Austin.
What kind of flavors of your childhood do you remember? Anyone a good cook in your house? Hated squash and loved pizza. Both sides of my family are filled with amazing cooks.
Do you cook at home? Yes, but not enough.
Best dish? I have a couple mean Italian dishes. I love Italian food and cooking simple dishes where fresh ingredients are the stars.
What's always in your fridge? Chocolate and beer.
Memorable glass of wine? Anything I drank with my late grandmother. She was so fun to drink wine with. And recently I had an amazing glass of '95 Charles Heidsieck with a couple of close friends. Great wine is nice, but who you enjoy it with is more important.
What's exciting to drink right now at Brasserie Du Vin? We just reprinted the wine list so there are many great wines, but a couple that jump to mind are an interesting red wine from Saumur Chapigny and a fun Vermentino. We're also constantly bringing in new wines as specials - you can find them daily on our chalkboard - to keep things fresh.
What's your favorite wine/kitchen gadget? Argon gas preservation can is a must - great for when you want a glass but not a whole bottle. They're about $10 at wine stores and will last for months. And every kitchen should have an old cast iron skillet.
Advice to anyone starting to learn about wine? Drink often and don't be a wine snob.
Favorite places to eat when you're not at Du Vin? Either Kokua or Down to Earth food bars, any of the good pho places around town, anything my Auntie Sharade is cooking, and at my house with friends.
What would you suggest from the menu to first-timers to the restaurant?
Come during happy hour and try some moule frites (mussels and fries) and a glass of Picpoul de Pinet, a delicious white wine from the coast of Languedoc, France. If things are going well and you're feeling the momentum of the moment, have one of Chef Jake's daily specials with a bottle of red.
Most Recent Comment(s):