Darrell T. Aoki

By
.(JavaScript must be enabled to view this email address)
Friday - September 22, 2010
Share
|

Del.icio.us
|

Podcast
|
WineAndDineHawaii.com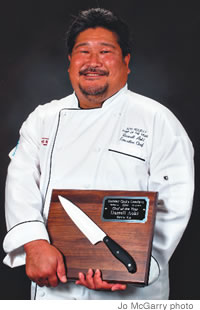 Occupation: Executive Chef, Hawaii Kai Retirement Community
Where were you born and raised? Born in Wahiawa, raised in Waipahu.
What started your interest in the food and beverage industry? From about the age of 4 I would help my mom cook my dad's breakfast and also prepare his lunch for work every day. My mother was a cafeteria manager, and as I grew up, it was my responsibility to prepare meals for the family.
First job? Zippy's. I started as a dishwasher and worked my way up to management.
Earliest food memory? The fresh lobster my dad would catch at the North Shore and bring home to the family.
You recently won a coveted award in your industry, Holiday Retirements Chef of the Year. You were named best chef at the annual Food Service Culinary Conclave in New York. Congratulations! Thank you. The award is given to one chef out of 315 community chefs annually. There is a list of criteria that you must follow to be considered. And then there are approximately 25 chefs chosen out of 315 to attend the Culinary Conclave held in New York every year. It was quite an honor.
How have meals for older people changed in past 10 years or so? We try to keep the meals healthy and well-balanced. We are utilizing more fresh fruits, vegetables, protein and herbs and are cutting back on sodium, preservatives and items with saturated fats and oils.
What's the biggest challenge of your job? Satisfying the likes and dislikes of 350 residents for three meals a day, 365 days a year! I enjoy the challenge.
Do you cook at home? I cook almost daily when I am at home with my 5-year-old daughter.
What's always in your fridge? Eggs, assorted cheeses, butter, garlic and poke.
Most Recent Comment(s):