Darren Demaya

By
.(JavaScript must be enabled to view this email address)
Friday - February 10, 2010
Share
|

Del.icio.us
|

Podcast
|
WineAndDineHawaii.com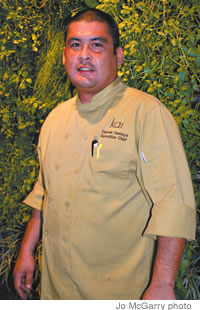 Title: Executive Chef, Kai Market, Sheraton Waikiki.
Age:31
Where were you born and raised? Waimea, Hawaii
What sparked your interest in a culinary career? I started working in the industry as a dishwasher, like many people! I was given the opportunity to work with food at the pizza station of the restaurant, and that was where I started to discover a passion and excitement for cooking.
First job in the industry? Dishwasher at Café Pesto in Hilo.
Most influential people in your life thus far? Alan Wong, because he changed my way of thinking in the culinary field; (chef) Daniel Delbrel, for always having an answer for everything; both my parents, for making me the person I am today; and Cheryl Tagaca, for always being there for me.
Favorite places to eat when you're not working? I like Japanese food, but really I can eat anywhere.
Favorite dishes when you go out to eat? Sushi and most Japanese foods - ginger-crusted onaga is a favorite, but I do eat anything.
Do you cook at home? Yes. I love to cook Filipino and Japanese foods at home.
Specialty dish? Steak with ponzu sauce.
What's always in your fridge? Haagen Dazs ice cream.
Kai Market is a relatively new restaurant, and your commitment to using local produce is huge. What has the experience been like so far? It's just a great experience, partly because of the relationships we have here at Sheraton and partly because of the way we are able to use local produce.
What's the reaction from the guests so far? They're really pleased with what we're doing. The comments are really positive. Local people love that we're supporting the local farmers, and the guests like that they get to eat "real" food from Hawaii.
With whom would you most like to have dinner at Kai Market? My grandparents. I'd like them to see how far I've come.
Best part of the job?The support that comes from our management and from my peers.
Most challenging part? I think that coming from a really small kitchen, like the one at Alan Wong's, and moving into such a large kitchen space was a challenge at first!
Where would you like to be 10 years from now? I hope that I'll be working somewhere where I can continue to grow and become the best I can be.
What's your favorite kitchen appliance? Alto Shaam ovens - they're so big, they make cooking everything so much easier.
Most Recent Comment(s):