Darryl Fujita

By
.(JavaScript must be enabled to view this email address)
Friday - May 26, 2006
Share
|

Del.icio.us
|

Podcast
|
WineAndDineHawaii.com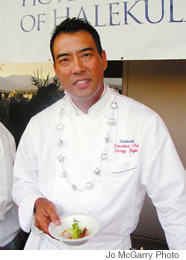 Darryl Fujita
Darryl Fujita is the executive chef at the Halekulani's award-winning Orchids restaurant. Specializing in the use of local ingredients, he brings a simple and fresh approach to fine dining at one of Honolulu's most beautiful restaurants.
Age: 41
Where did you go to school?
Waialae Elementary, Kaimuki Intermediate and Kalani High schools.
What started your interest in cooking?
When I was younger I always helped my mother cook. Watching cooking shows had an influence, and then when I started in the industry I was inspired by watching and helping the chefs I worked with. I always found cooking very rewarding.
First professional position?
Cooking, busing tables, dishwashing in a family restaurant.
Who has influenced you most in your career, and why?
Chef George Mavro. He is a great teacher and exudes a passion for cooking and making people better. He is also a lot of fun to work with; his mentality keeps things interesting. He is very serious, but yet finds humor with the job.
If you weren't in this industry, what would you do?
I don't know, but when I was a kid I wanted to be a veterinarian or maybe something to do with the ocean. My wife has suggested that I can join the Champions Golf Tour later in life - but she wants me to make sure I don't forget how to cook, just in case!
Where do you go to eat when you have free time?
My wife and I like to eat at barbecue/yakiniku-style places.
Favorite dishes at those places?
Pork belly.
What's always in your fridge?
The light bulb ... just kidding. We have a well-stocked fridge. There's always pizza, steaks, kim chee, fruits, fresh juice and soy milk.
Favorite late-night snack?
Ice cream.
How do you describe Orchids' style?
Fresh, local ingredients, unadulterated.
Whom would you most like to host for dinner, if you could?
My grandparents.
Which person do you most admire in the food-and-beverage world?
There are a few who stand out, but not one in particular that I can think of right now. I do admire those who give back to their communities and help those who are less fortunate.
Best part of your job?
Working with inspirational people in my kitchen, preparing a great meal for our guests, helping someone with their problems if I am able to, having fun cooking with the crew, and developing new items for our menus.
Worst part?
Receiving sick calls early in the morning!
Most Recent Comment(s):