Daryl Yamaguchi

By
.(JavaScript must be enabled to view this email address)
Friday - January 13, 2006
Share
|

Del.icio.us
|

Podcast
|
WineAndDineHawaii.com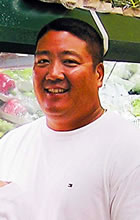 Daryl Yamaguchi
Daryl Yamaguchi is the co-owner (with wife Michelle and sister Debbie) of Umeke Market.
Age: 39, forever
Where did you go to school?
Iolani School, Menlo College.
What made you want to open a health food store?
My sister's interest in natural remedies. I wanted to own a business that offered wellness.
Are you a fanatically healthy eater?
There's no way I would consider myself a fanatically healthy eater, but some of my longtime friends might see a difference in my eating choices nowadays.
What's the biggest challenge you think people face with regard to healthy eating?
I think people are so busy they don't have the time to eat well. They may work in an area where dining choices are limited, and even if there are choices, the choices are not that appealing. Oh, and I think most people like me really have meal portion issues. And eating enough fresh fruits and vegetables, organic if possible, is always a challenge.
What's a typical day's worth of food for you?
Breakfast: fresh fruit high egg white protein smoothie. Lunch: usually wild salmon salad or free-range bison burger. Dinner is tough. I'm out of the store in the evenings, so I always consider somewhere there might be fresh fish on the menu. Now this is typical Monday through Friday, but there are days that I have lunch out so I navigate the choices just like everyone else.
What's always in your fridge?
MAO Farm's Sassy baby greens, organic milk and eggs.
Favorite late night snack?
Haagen-Dazs ice cream followed by a psyllium husk cocktail (fiber).
What do you eat when you secretly want to splurge?
Pepperoni pizza.
Favorite Hawaii restaurant?
Hale Vietnam.
Favorite dish at Umeke?
Wild salmon salad with our garlic hoisin dressing.
Most Recent Comment(s):