Dave Campbell

By
.(JavaScript must be enabled to view this email address)
Friday - September 01, 2010
Share
|

Del.icio.us
|

Podcast
|
WineAndDineHawaii.com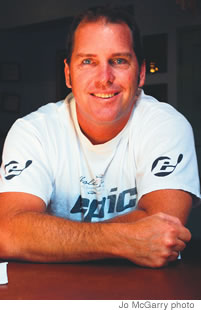 Occupation: Brewer, Sam Choy's Big Aloha Brewery
Where were you born and raised? Oahu. Graduated from Punahou.
There seem to be a lot of good beer coming out of Hawaii these days. There truly are. Hawaii has some excellent craft brews, and the standard here is very high. When people come to Hawaii, if they know anything about craft beers, then they expect to taste a high-quality brew.
Is brewing beer more of a creative expression or a scientific one? I think that brewing technique is inextricably entwined with creativity. My own technique was established years and years ago, but creativity allows me to continually augment it. Technique provides the framework and creativity keeps it interesting.
What's the key to a successful brew? Keeping it clean and maintaining a balance among the different ingredients, flavors and beer characteristics.
Favorite place to eat? At home with friends and heavy pupu. Boiled peanuts, poke, edamame, smoked marlin, sliced steak and sausage can't be beat. I am always up for dining at town restaurant, where Ed Kenney and Dave Caldiero always do a killer job.
What's always in your fridge? Tortillas, hummus, feta cheese.
No beer? No. People are always surprised at how little I drink. I haven't had a hangover in years.
Who has been influential in your life thus far? Dr. Paul Farnsworth. He had a big influence on my brewing style. Originally from Burton-On-Trent, he came up through the ranks of Bass and ultimately ended up consulting and teaching brewery science. What I learned from him is the British method of brewing that stresses simplicity.
Who would you most like to see come into the Big Aloha Brewery for a beer? Keith Richards, Shaun Tomson, Mark Richards, surfers and rockers. Michael Jackson (the beer guy) would have been great. I did drink a beer in here with Ron Wood one time, which was cool.
Most Recent Comment(s):