Dave "D.K."Kodama

By
.(JavaScript must be enabled to view this email address)
Friday - April 13, 2007
Share
|

Del.icio.us
|

Podcast
|
WineAndDineHawaii.com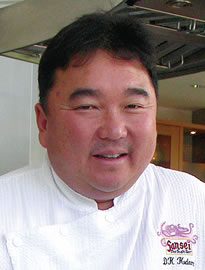 Dave Kodama
Dave "D.K." Kodama is the chef owner of a number of Hawaii's hottest restaurants: Sansei Seafood Restaurant and Sushi Bar, d.k's Steakhouse, Vino and Hiroshi Eurasion Tapas. He lives in Honolulu with his wife, Lori, and their three young children, Brie, Chev and Cashel (yes, they are all named after cheese).
Where did you go to school?
Aiea High School, and then I graduated from UH.
First job?
I washed dishes at Zippy's in Waimalu, and then I got a job at the pineapple cannery. And then I worked for four or five years with my dad on every school break in his construction business.
What is it that attracts you to the food business?
What I really love to do is to create. To be in the kitchen creating food is what I always want to get back to. Sometimes it's tough with all the other things going on, but right now we're working on developing new sushis, and new dishes for Sansei that are exciting. That's what I like to do most.
Where do you eat when you're not at work?
I like variety, so I don't have one favorite place. I like places where we can take the kids and not worry about it. My family loves to go to Sansei, but we're always looking for more ideas on where to go.
How often do you eat out?
We try to take the kids out as often as we can. At home, when you prep and cook and clean up there's so much to do. In a restaurant you can enjoy the kids more. I recommend that everyone go out to eat in restaurants - you'll have more time to spend with your family (laughs).
Mentors?
Well, that whole HRC (Hawaii Regional Cuisine) inspired me. Alan (Wong) and Roy (Yamaguchi) especially. And I have to say that working with Nobu (Matsuhisa) was inspiring. You've got sushi, you know, and then you've got Nobu!
What's your specialty in the kitchen at home?
Lori's favorite dish is a miso cream that Hiroshi (Fukui) makes. We just get fresh fish and then drizzle the cream and top it with fried potato slivers.
Who'd you most like to cook for?
My family are the most important people in my life. Being with them is really all I need - and they are the people I most love to cook for and eat with.
What's always in your fridge?
You know, we're having two refrigerators put into our new house - at least! There's just so much in there. I love truffles - anything truffled, so there's always something like truffle oil or butter or salt. I don't put it on everything ...
Most Recent Comment(s):