Dave Millen

By
.(JavaScript must be enabled to view this email address)
Friday - March 03, 2010
Share
|

Del.icio.us
|

Podcast
|
WineAndDineHawaii.com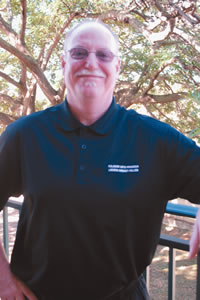 Job: Chef instructor, Culinary Arts/Food Service, Leeward Community College.
Where were you born and raised? Los Angeles, and at the tender, young age of 10, I started spending summers in Kona. That started my love of Hawaii.
Where did your love of cooking start? My dad always cooked on all the holidays, and he was from the South, so on the Fourth of July and Labor Day he'd do the big Southern barbecue with the ribs. He made his own barbecue sauces, so I was always interested in that. And I was really fortunate we had exchange students from Taiwan come to live with us, and they cooked and taught me how to make things like pot stickers.
So you were always around good food - and cooks. Yeah, and as a kid I watched the Galloping Gourmet, Graham Kerr, and Julia Child instead of cartoons. I don't know why, but that's what I liked. I was always interested in cooking.
You teach students now. Do you think cooking is something a person is instinctively drawn to? I think it is largely instinctive. I think you have to have a predisposition for cooking, but I also think that you can learn a lot if you have enthusiasm and a passion for it.
Are you able to identify students who have a natural affinity with the culinary arts? Yes, you can see right away how comfortable people are. It's a combination of instinct and learning, and proper technique. And you have to like being with food.
Do you cook at home? I do cook at home, but it's simple stuff - a plain piece of grilled fish, salads, that sort of thing. But the secret is high-quality everything. So I use good olive oil, fresh produce and local fish.
What's always in your fridge? Good juice, like the new V8 Fusion kind of stuff, good cheese, and always fresh vegetables and fruit.
Favorite haunts in Honolulu? Of course, I like Side Street Inn and places like that, but I like a lot of what other chefs are doing. Alan Wong is always interesting and Roy Yamaguchi of course, and I like the concept behind Hiroshi's.
With whom would you most like to have dinner? Well, right now Barack Obama and, for sentimental reasons, I'd like to have one last great meal with my dad.
What's your favorite kitchen gadget? The mandoline slicer and the microplane grater. I love the microplane. You can get a little bit of zest into a dish with a microplane that really adds something special.
Who's had the biggest influence in your life? Roy Yamaguchi. Coming out of cooking school and having the opportunity to work with him, and to start off as just a line cook to becoming his sous chef at 385 North, and then to come over here to Hawaii to work as executive chef for him was incredible. He taught me so much, and he's influenced my cooking more than anyone else.
Most Recent Comment(s):