Dave Stewart

By
.(JavaScript must be enabled to view this email address)
Friday - January 26, 2007
Share
|

Del.icio.us
|

Podcast
|
WineAndDineHawaii.com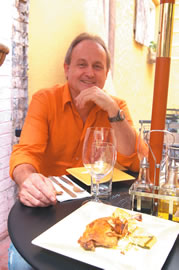 Dave Stewart
Where were you born and raised?
Auckland, New Zealand.
Where did you go to school?
Well, I went to school in Auckland, and it took me three attempts to graduate from high school. I was a really bad student.
Did you go directly into business when you left?
No, I served an apprenticeship as a draughtsman, and then I bought and sold my first business. After that I bought a yacht with a couple of friends and sailed the Pacific Ocean for two years.
How did you get started in the restaurant business?
I went to live in London for a while after I sold the yacht, and when I came back to New Zealand a buddy of mine said "What are you going to do? You're not going to get a job, are you?" And I thought no, I'm going to open a restaurant!
When did you come to Hawaii?
Christmas of 1979. I was sailing around with my wife, and when we got to Hawaii we ran out of money so we had to get jobs.
It seems as though Indigo was always popular, right from the start.
Yeah, there really wasn't anywhere like Indigo - the city was crying out for that sort of place and we were busy, with a line out the door, from the minute it opened.
Have you had any mentors throughout your life?
Strangely enough, I've always had a Jewish mentor. There always seems to have been a Jewish gentleman as part of my life - through all the different stages. When I first came to Hawaii it was Ed Collins. I've always enjoyed what I've learned from these guys about business and about life.
With whom would you most like to have dinner?
Michael Palin. I think he'd have some great travel stories and there'd be some good conversation.
What's your advice to anyone opening a restaurant or a bar?
With a restaurant, don't do less than 3,500 square feet; otherwise you'll be tied to it for the rest of your life. Anything bigger and you should be able to make enough to have some freedom. And if you're doing a bar? Unless you've got a personality that's conducive to being around people who drink a lot and repeat themselves, don't do it!
Most Recent Comment(s):