David Nagaishi

By
.(JavaScript must be enabled to view this email address)
Friday - October 06, 2010
Share
|

Del.icio.us
|

Podcast
|
WineAndDineHawaii.com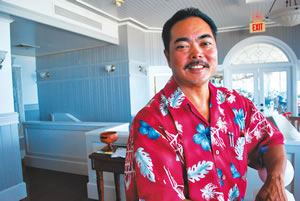 Title: Operations Manager, Ocean House Waikiki
Where were you born and raised? Honolulu
What sparked your interest in the food and beverage industry? Oh, man. Way back when I was a little kid, we'd go to the Islander baseball games and my friend's mom worked at Kuhio Grill. After the game we'd walk up and drink soda and wait for her to finish. One day the dishwasher broke and the manager came out and asked us if we wanted to earn some money washing dishes. It was fun!
Did that start your career?
Yeah, I think so. I enjoyed watching the waitresses battling it out, the servers and the whole thing. When I was old enough I started bussing tables and worked my way up like a lot of people.
What is it you like about the industry? I like every part of it. There's a rush of "what's going to happen next." No one customer is the same, no two days are the same. It's about making people happy, I guess.
What do you look for when you're hiring? First thing is appearance. You have to look appealing and have a good personality. I like people who love people. And I like to hear the energy in their voices.
How would you describe Ocean House to people who've never been? We're right on the beach in Waikiki. There's a nice, relaxed plantation feel and we have fine dining touches but without the fine dining prices. And we have great food.
With whom would you most like to have breakfast/dinner at Ocean House?
Hmm, I guess President Obama and his family would be nice.
Do you cook at home? I love to cook. If you were coming for dinner, I'd most likely make pan-seared steak, garlic shrimp and homemade mashed potatoes.
What's always in your fridge? Milk, eggs and lots of hot sauces and chili peppers. I like food to be cooked and then spiced so it's multi-dimensional.
Anything about you that would surprise people? I like to kayak fish. Lately I've been catching a lot of opelu right out here in Waikiki, and weke.
Most Recent Comment(s):