David Newman

By
.(JavaScript must be enabled to view this email address)
Friday - January 06, 2010
Share
|

Del.icio.us
|

Podcast
|
WineAndDineHawaii.com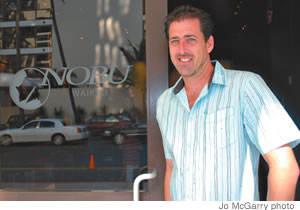 Job Title: Bartender, Nobu, Waikiki.
Where were you born and raised? San Fernando Valley, California. I came to Hawaii about two-and-a-half years ago to help open the restaurant. I worked with Nobu in California.
Has bartending always been your favorite part of the industry? Always. I could never hold down a real job (laughs).
So your first job in the industry was behind a bar? Not really. I worked with a catering company, and one night someone didn't turn up for work and they needed a bartender, so I volunteered because it looked like fun.
Was it? I looked like a complete idiot and had no idea what I was doing. But I loved it, and after that I kept begging the regular bartender to teach me the trade.
There are relatively few really good bartenders anymore. Why do you like the work so much? I like the comfort zone of interacting with the guests - it's so different from waiting tables. I think that you don't find bartenders as much as you used to who are able to talk about everything. Bartenders should read newspapers, watch the news and generally be able to talk about anything guests want to. That's part of the job.
Where do you like to eat and drink when you're not at Nobu? For me, it's more about certain dishes than the actual place. I like the tofu salad at Shokudo, the prima pizza at V Lounge, the handmade pasta and wild boar at town, when they have it, the portobello mushroom plate at Diamond Head Market - and the kurobuta pork here at Nobu. It's incredible.
Do you cook at home? Love to cook.
What are you most likely making for a dinner party? Carrot cake for dessert - Grandma's recipe, French scampi - my recipe, and I'd start with an artisan cheese plate and some good wine.
What's always in your fridge? Ketel One.
Who'd you most like to see sitting at your bar? My grandpa. I'd love to talk to him again. And Catherine Zeta Jones.
Is there anyone who's had a big influence on you thus far? Scott McCoy. He was a big Irishman who taught me a lot about how to be a great bartender.
Anything about you that might surprise us? I'm super shy.
And bartending helps? (laughs) There's something about having three feet of wood between you and the person you're talking to. Yes, it helps.
Most Recent Comment(s):