David Yamamoto

By
.(JavaScript must be enabled to view this email address)
Friday - October 13, 2010
Share
|

Del.icio.us
|

Podcast
|
WineAndDineHawaii.com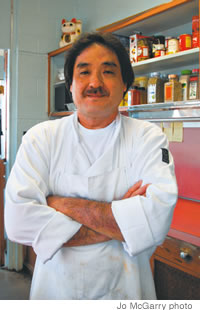 Occupation: Chef/Partner Kahai Street Kitchen
When did you discover an interest in cooking? I've always been interested in cooking, even when I was a little kid. I cooked from an early age. I'd watch my dad make all the great holiday meals - at New Year's he'd make everything: sashimi, tempura, ham, turkey. I've enjoyed it as long as I can remember.
What was your first job in the industry? Dishwasher, and then I went to school for a while. I started working at restaurants like Roy's, L'uraku, and I was inside the airlines for a while, too.
Did you always have an idea to kick up the plate lunch? Yes, I did. I always thought something like this would be good - comfort food done really well. I always thought it could be a good thing.
Where do you like to eat when you're not working? I pretty much like to go everywhere I can and try everything. From Kakaako Kitchen to Roy's to Alan Wong's to fast food ... just to see how everyone does stuff, to see what's happening and what's out there.
Do you cook at home? Well, sometimes. I used to cook before, but I don't really have the time anymore. My wife does all the shopping and is kind of responsible for the food at home now.
What's always in your fridge? Just regular kinds of things, the basics like milk and cheese and fresh fruits - everything pretty much has to be fresh.
Who would you love to see come into Kahai Street Kitchen for a plate lunch? Maybe the governor.
Any dreams for your gourmet plate lunches that you haven't yet realized? Yes. I'd like to make the whole thing bigger. It would be nice to make comfort food a little fancier and still keep it a very good price.
Most Recent Comment(s):