Dean Kamiya

By
.(JavaScript must be enabled to view this email address)
Friday - August 29, 2008
Share
|

Del.icio.us
|

Podcast
|
WineAndDineHawaii.com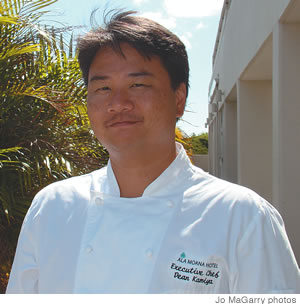 Title: Executive chef, Ala Moana Hotel
First job?
My first job was bagging vegetables at my grandfather's produce company, and my first paying job was at Ono's Drive Inn in Kaneohe.
Any mentors or people that you've admired in the culinary world?
I've got more than a few people who have helped me throughout the years. I've thanked them every step of the way, and after I achieve all of my goals, I'm taking them to Vegas! When I see what famous chefs like Thomas Keller, Charlie Trotter and Ferran Adria have accomplished, it motivates me even further.
How do you describe your personal style of cooking?
I like cooking what makes my family, friends and our clients happy - whether it's for friends at a barbecue or personalizing a menu for a special event. My team and I enjoy creating many different menus, incorporating flavors from many cuisines. I also try to learn and apply various cooking styles.
Ala Moana Hotel has changed so much in recent years. What are the dining options there now?
A recent multimillion-dollar renovation has transformed our hotel. Plantation Café now serves a daily breakfast buffet. Rumours Nightclub has a delicious appetizer menu as does the Pakele Lounge. Our guests can also enjoy Aaron's Atop The Ala Moana, Royal Garden and Tsukasa within the hotel.
Do you cook at home?
Yes, I try to spend time in the kitchen with my daughter. She likes to cook and bake, and finds simple tasks like washing rice a fun activity and not a chore.
Favorite dish to prepare and enjoy?
For myself, mac 'n' cheese!
What's always in your fridge?
Local favorites like Portuguese sausage and oyster sauce. We always have leftovers in the fridge since we always cook big meals. I also like to keep a cold can of Monster Energy drink on hand to give me a boost when I need it.
Where do you like to eat when you're not working?
Rainbow Drive Inn and Kaka'ako Kitchen.
Any favorite Hawaii chefs?
The chefs that have done really well like Alan Wong, Roy Yamaguchi and Russell Siu have helped pave the way for all of us. But there are other great chefs who will not always be in the limelight, but are still movers and shakers in the Hawaii culinary world.
What's the toughest thing about running large-scale banqueting?
Since we offer catering and special event services for groups ranging from 15 to 600 people, our challenge is finding the right balance. We do extensive planning to make sure we have enough ingredients and supplies to offer great food at affordable prices. I have also found that being a manager can be tough at times - making sure that my team is meeting the needs of our clients while having fun and staying motivated.
Most Recent Comment(s):