Debbie Tuaileva

By
.(JavaScript must be enabled to view this email address)
Friday - November 30, 2007
Share
|

Del.icio.us
|

Podcast
|
WineAndDineHawaii.com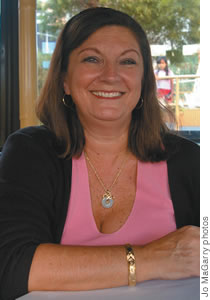 Debbie Tuaileva
Age: 50
Title:
Catering Manager, Pagoda Hotel and Restaurant
Where were you born and raised?
Bellbrook, Ohio
What got you interested in food and beverage as a career?
When I first moved to Hawaii in 1979, my first job was at the Hilton Hawaiian Village as a hostess at the Rainbow Lanai. I met so many different people, and it was very exciting. It made me want to pursue F&B as a career.
How did you come to work at Pagoda?
I was living on the Mainland and coming back to Hawaii often, and I was referred to Pagoda by some friends in the industry. I applied for the banquet manager position and have been here ever since.
Pagoda seems to be one of those places where people start and never want to leave. What's so great about working there?
It's more of a family atmosphere than other larger hotels. There's something very special about our property. We're a close-knit bunch, and everyone works very well together and looks after each other.
You're one of very few female F&B managers in Hawaii. Why, do you think, aren't there more?
This job takes a lot of time away from family, and as a wife, mother and working professional, you have to juggle to find a balance. Our industry is ever-changing, and you have to be on your toes all the time. I was able to get into this job after my kids had grown. It was easier to focus on my career, but I think for women with young children, this is a tougher career option.
Where do you like to eat when you're not working?
Roy's, Hawaii Kai
Favorite dishes there?
They have really good seafood dishes.
Favorite dish at Pagoda?
We make a killer fried rice, and shrimp and vegetable tempura.
Do you cook at home?
No, my husband does.
What's always in your fridge?
Fruits and cheese
With whom would you most like to have dinner at Pagoda?
George Clooney
The holidays are huge at Pagoda. Are you looking forward to them, or does it get too crazy?
Very much looking forward to Christmas parties, office parties, baby luaus and weddings. And now with Aloha Fridays in LaSalle, it's even busier. We're pretty much non-stop from this weekend until January!
Most Recent Comment(s):