Del Uyehara

By
.(JavaScript must be enabled to view this email address)
Friday - July 11, 2008
Share
|

Del.icio.us
|

Podcast
|
WineAndDineHawaii.com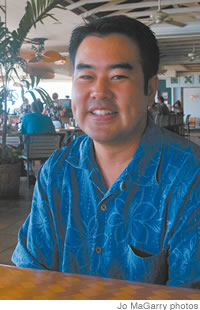 Del Uyehara is the general manager of Shore Bird Restaurant in Waikiki. Located within the Outrigger Reef Hotel, the beachside location offers some of the best views (and least-expensive dining options) in Honolulu. With free karaoke, an all-you-can eat salad bar, daily themed buffets and a grill where guests barbecue their own food, Shore Bird is a unique dining experience.
Title: General manager, Shore Bird Restaurant and Beach Bar, Waikiki
Age: 34
Where were you born and raised?
I was born and raised here on Oahu.
What sparked your interest in the food and beverage industry?
I've always liked people and I knew that I wanted to work with people, but I wasn't sure which direction it would go. I had a buddy who worked here, and he brought me in as a busser.
Did you think you'd still be here 10 years later?
Well, I really liked it right away! I liked the people, the socializing, the network and I love working with the customers.
Where do you like to eat when you're not at work?
Because we work non-traditional restaurant hours, my wife and I like to hang out at a small bar in Waipio called Nancy's Kitchen. We really like it there.
Do you cook at home?
No, there's just the two of us. We do dabble a bit, but nothing fancy.
What's always in your fridge?
It's usually pretty empty. Some leftovers, maybe some beer. It's pretty sad, really (laughs).
How do you describe Shore Bird to people who've never been?
It's like having a back yard right on the beach, but you don't have to do the dishes or clean up.
Best things on the menu?
My personal favorite is the rib eye. And the lunch buffets are great.
Anyone influenced your career thus far?
Oh, family ties are pretty strong with me. My family has always helped. And this industry is very nurturing. There's a real caring ohana here.
Anyone you'd like to see come in for dinner?
Well, we're pretty fortunate here. We have a lot of celebrities who've stopped by over the years, so we're not really star-struck anymore. We've had Sylvester Stallone, Dolly Parton, Nicolas Cage, Hulk Hogan, Jerry Rice, John Elway ...
So nobody you'd like to treat to a rib eye dinner?
Well, I wouldn't mind seeing Jessica Alba over there flipping a steak.
Most Recent Comment(s):