Dell Valdez

By
.(JavaScript must be enabled to view this email address)
Friday - June 03, 2009
Share
|

Del.icio.us
|

Podcast
|
WineAndDineHawaii.com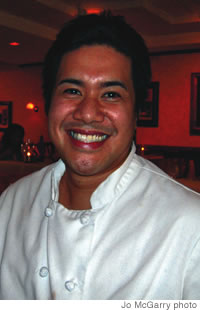 Title: Executive Chef, Sergio's Italian Restaurant, Kapahulu Avenue
Where were you born and raised? Kahului, Maui.
First job in the food and beverage industry?
Well, it was kind of in the industry - Sack N Save on Maui. But then I trained at KCC, and then interned at Kahala when it was the Kahala Mandarin Hotel.
What sparked your interest in cooking?
My mom was always a great cook, and I liked the idea of the 'organized confusion' in a kitchen.
Did your mom let you in the kitchen when you were young?
I come from a line of great cooks, but the ironic thing is my mom never taught me to cook anything. She would always let me watch, but she never taught me. Filipinos don't usually like to write down recipes - they like to pass things on through generations.
What's your mom's best dish?
Her pinkabet - I get teary-eyed just thinking about it - and her chicken adobo. I can't find anyone who can make it like her.
How do you describe the Italian food at Sergio's?
It's old school, new rules. The recipes are old-style Italian, but we're working with new and contemporary ingredients.
Do you cook at home?
I do sometimes, but usually it's more Spam and eggs and really casual food rather than anything too fancy.
What's always in your fridge?
I'm hardly ever at home, but there's always butter, eggs, cured meats and beer. I have two roommates, so there are never any leftovers in the fridge.
With whom would you most like to have dinner at Sergio's?
My mom and dad - they're my biggest critics, and they always seem to enjoy the food. And Oprah Winfrey.
Does the open kitchen at Sergio's make you nervous?
Well, of course, a little bit. You have to watch your behavior all the time, and you have to watch how you behave under pressure. But, for the most part, the open kitchen is really fun. And I'm getting used to being on show all the time.
What do you recommend for first-timers?
Oh, everything! The prosciutto and arugula pasta, the sausage with fresh linguine, the pizza ... everything is good.
Most Recent Comment(s):