Devin Hashimoto

By
.(JavaScript must be enabled to view this email address)
Friday - March 23, 2011
Share
|

Del.icio.us
|

Podcast
|
WineAndDineHawaii.com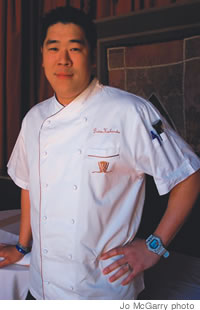 Occupation: Executive Sous Chef, Wynn Resorts, Las Vegas.
Where were you born and raised? On Oahu. I graduated from Iolani, then from UNLV.
What started your interest in the food and beverage world? I started working at Sam Choy's after I graduated high school, and then during college every holiday I'd come back to Sam's to work. I loved the intensity of the kitchen, even though I started out bussing. Something about the kitchen just grabbed me.
Vegas is indisputedly home to some of the world's best restaurants. If you could open one of your own, what would be the style? French-influenced cuisine using a lot of Japanese ingredients. The last two-and-a-half years at Alex at The Wynn we experimented with a lot of fresh and different Japanese ingredients. It makes for a really exciting menu.
Do you cook at home? My wife loves to cook and she makes great Korean food.
What's always in your fridge? Kim chee - my wife makes at least three different kinds at any one time. And rice, of course.
Where do you head to eat on a trip home to Hawaii? Rainbows. It's always the first stop for a mixed plate and the shoyu chicken, then I stop by Waiola's for a shave ice. That's a must.
Anybody you'd love to see come to the hotel? Joel Robuchon came in for dinner a couple of years ago, and I was in the back of the house and didn't even see him. Today, to have him come back and to have the opportunity to create a menu would be great. But family and friends who come from Hawaii are my favorite. I always tell people, if you come to Vegas, come hungry. I love creating things off the menu for people from Hawaii.
Most Recent Comment(s):