Dianne Vicheinrut

By
.(JavaScript must be enabled to view this email address)
Friday - February 01, 2008
Share
|

Del.icio.us
|

Podcast
|
WineAndDineHawaii.com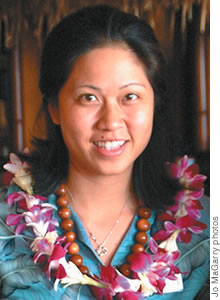 Dianne Vicheinrut
Age: 31
Job Title: General Manager Hula Grill Waikiki
Where were you born and raised? Long Beach, Calif.
What was your first industry job?
Prep cook in my mom's restaurant at the tender age of 6.
Hula Grill has some of the best views in Honolulu. Are your guests mainly tourists, or do local people know about you?
We are lucky to have a nice mix of tourists and locals. A lot of our local customers bring their out-of-town guests whenever they can.
What do you recommend to people who are dining at Hula Grill for the first time?
We offer complimentary fresh, homemade foccacia bread with our homemade Hawaiian chili pepper water - both the bread and the chili pepper water are addictive, so people shouldn't pass on them. I always recommend the pupu platter and usually one of the chef 's specials because they include fresh fish and dishes like braised short ribs. Our signature dessert is a homemade ice cream sandwich, and our coconut crème brulee is served in a fresh pineapple.
What's the hardest part of your job?
Due to the long hours of the restaurant business, it's hard to create time for a personal life. I'm learning that I need to leave the restaurant (after 15 hours!) and make time for myself.
The best part?
Working with the staff at Hula Grill. We are a small, close-knit team, and every member is an integral part of the Hula Grill family.
Who would you most like to see come into the restaurant for dinner?
Rob Thibaut, one of the founders of our company. Unfortunately, he passed away, but we feel like his vision and his aloha spirit live on.
How do you relax?
A spa day with my girlfriends.
Favorite restaurants when you're not at work?
Nobu.
Best dish on the menu?
Yellowtail Sashimi with Jalapeno.
Most Recent Comment(s):