Dick Grimm

By
.(JavaScript must be enabled to view this email address)
Friday - December 07, 2007
Share
|

Del.icio.us
|

Podcast
|
WineAndDineHawaii.com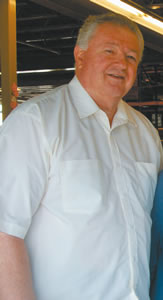 Dick Grimm
Title:
President, Hawaii Foodbank.
Where were you born and raised?
Chicago, and then I moved to Wisconsin when I was 15. I went to the University of Wisconsin on a football scholarship and won letters in football and boxing.
How did your association with the Hawaii Foodbank begin?
I was running KGMB in 1989 and the news director, Terry Heaton, suggested we adopt a non-profit. KGMB continues to promote and televise our food drives to this day.
What's the biggest problem facing the food bank at this time of year?
Our problem all year long is getting enough food - particularly protein - to serve those in need.
During the holidays, when we're all feasting, and children are excited at the prospect of presents and visits from Santa, it's sometimes hard to imagine hunger as a real problem in Hawaii. Are people still shocked when they find out the extent of the problem?
Yes, and hunger is a very real fact for 33,000 children in Hawaii. Twenty-five percent of the households we serve have one or more children.That's one in four needy households with a child without enough food to eat.
What's the most useful way for people to contribute this holiday season?
We are always grateful for canned meats or meals, soups and, of course, money.
What's the most unusual donation you've ever received at the food bank?
A product from Mexico that had insects encased in candy. We didn't taste it - we sent it to the dump.
Are you a good cook?
Not at all. I can, however, make a very good omelet.
What's always in your fridge?
Coming from the dairy state, I always have milk, cheese, eggs - and sausage. And if I'm lucky, some homemade rhubarb jelly and dilled asparagus or string beans that my sister sends.
With whom would you most like to share a holiday meal?
Probably George Washington. I'd like to know what kept him so focused and dedicated to the American cause during the war.
Your Great Chefs event with almost all of the top chefs in Hawaii is one of the best food fundraisers of the year. Can you tell us about 2008?
It's on March 22 and, yes, I think it is the best culinary event of the year. Tickets are on sale now - they'd make a great Christmas present! It's sure to sell out, so we're suggesting people get tickets as soon as possible.
To support the foodbank and to buy tickets for the Hawaii Foodbank
Most Recent Comment(s):