Diva Schroeder

By
.(JavaScript must be enabled to view this email address)
Friday - September 23, 2005
Share
|

Del.icio.us
|

Podcast
|
WineAndDineHawaii.com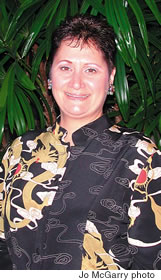 Diva Schroeder is the general manager of Roy's Hawaii Kai. She has been in the restaurant industry for nearly 30 years, and is one of the most highly respected restaurant managers in Hawaii. Dedicated and devoted to her staff, she instills a high standard of excellence in all who work with her.
What was your first job in the industry?
Breakfast waitress at The Holiday Inn, Waikiki Beach in 1976.
Who has had the most influence on you?
My parents. They both worked very hard. My dad had two jobs and my mom worked full time. We didn't have a lot of money growing up, but they taught the four of us to work hard and strive to be the best in whatever field we chose. Hard work will pay off. Most of all you have to enjoy what you do.
The service at Roy's is outstanding - where did you first become aware that service was really important in a great restaurant?
Working on board cruise ships in the 1980s (S.S. Independence). Passengers were assigned dinner seats for six nights on board the ship, and I realized if guests were going to be with me for six nights then I was going to establish a relationship with them, and part of that relationship was giving them great service and making them feel important.
Favorite dish at your restaurant?
Misoyaki butterfish in a light wasabi butter sauce.
Favorite Hawaii restaurant other than Roy's?
My children love Chinese food - Phoenix Chinese Restaurant in Hawaii Kai is a favorite.
What's always in your fridge?
I have two growing boys, so there is always a lot of milk, eggs, cheese and fruit.
What's your favorite late-night snack/after-work treat?
Something light like sashimi or poke salad.
What do you do to relax?
Have a great glass of Cabernet or Syrah!
With whom would you most like to have dinner at Roy's and why?
My late Hawaiian grandma, Rita Akana. Unfortunately she passed away when I was only 21. At that age I was doing what all 21-year-olds were doing. Now that I'm older, I'd like to ask her about growing up here in Hawaii during the Depression, the Pearl Harbor invasion and about our family genealogy.
Any memorable moments that you'd like to share?
Buying dinner for a guest who has been faced with a crisis.
Last year we had a soldier who had just come back from Iraq come in for dinner with his wife. When it was time to present the check, I walked over and thanked him for putting his life on the line every day and for protecting our freedom. The entire staff at Roy's bought their dinner. He and his wife were shocked. He stood up and hugged me and asked me to thank Roy and the staff.
What's the best advice you can give to someone looking to start in the food and beverage industry?
You need to be dedicated to service. Know your product. Take the time to educate yourself on all aspects of your business. Treat all of your guests as if they were family. All of this pays off at the end of each day.
Most Recent Comment(s):