D.K. Kodama

By
.(JavaScript must be enabled to view this email address)
Friday - February 18, 2009
Share
|

Del.icio.us
|

Podcast
|
WineAndDineHawaii.com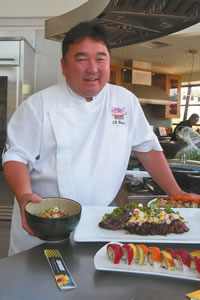 Title: Chef/owner DK Restaurants
You're well-known as the owner of a steak house and four Sansei Seafood and Sushi restaurants. Now you've opened The Counter at Kahala Mall. I've heard Oprah's a big fan.
Oprah gives it a big thumbs up. And GQ Magazine said that The Counter has one of the 20 burgers you must have before you die. Basically it's a quality burger joint - 100 percent Angus beef, certified and humanely treated.
So what inspired you to go in this direction? It's a bit of a change from ahi carpaccio and mango hand rolls. A friend of mine called me about this franchise, and he was really passionate about it. So I went up to Santa Monica and tasted a great burger, and there was a great buzz in the atmosphere. I think this is really great comfort food, especially in these times where you don't want to spend on a fine-dining meal. You can have a good, quality meal at a good price.
I hear that actor Daniel Dae Kim is your restaurant partner. Presumably he's a big fan of your food. Are you a big fan of LOST?
Who isn't a fan of LOST? And I'm a big fan of DDK! He's a real good guy. We golf together, our kids go to the same school and our families get together.
So can we expect to find the LOST crew at The Counter?
I think so, and hopefully Jorge (Garcia), who is a big connoisseur of burgers, will be our official taste tester and come by often.
I think you have some of the most talented and enthusiastic staff in the restaurant industry. Would you like to share any secrets of motivational success?
I live by this honor code: Never lie, never cheat, never steal. I don't micro-manage them, I don't yell or scream, and I treat them like I'd want to be treated. Basically, I have no secrets.
With the make-your-own-burger concept, what will a DK burger look like?
It's the loco moco. A great burger on rice with rich gravy, fried onion strings, and sautéed mushrooms and onions. But you have to try our ice cream milk shake. We put a whole apple pie in there - crust and all.
Most Recent Comment(s):