Don Assam

By
.(JavaScript must be enabled to view this email address)
Friday - September 30, 2009
Share
|

Del.icio.us
|

Podcast
|
WineAndDineHawaii.com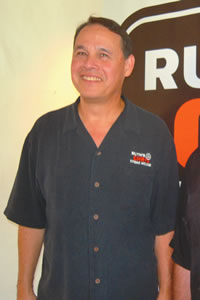 Title: General Manager, Ruth's Chris Steak House at Restaurant Row
Where were you born and raised? Honolulu.
What started your interest in the food and beverage world? I didn't want to work at Dole Pineapple Cannery!
What was your first job in the industry? Working at the Original Pancake House.
What is it you like about the industry? Meeting people is really the part that's the most rewarding. You have to enjoy meeting new people to be a part of this industry.
What's your favorite dish on the menu at Ruth's Chris? The Cowboy Ribeye.
Do you order steak when you eat at other restaurants? Yes I do. It's important to see what else is out there.
What do you think when people order their steak - one of high quality - "very well done"? I think as long as they're happy and that the steak is cooked the way they want it, then that's all that really matters. If people want a suggestion on how their steak should be cooked, then I might not suggest well done!
Where do you like to go when you're not eating steak? Romano's Macaroni Grill.
What do you order there? The steak is very good! I also like the pork chop and the "create your own pasta."
Do you cook at home? Only if I'm really hungry.
What's always in your fridge? Water, milk, beer and kim chee.
Favorite movie? Any movie in a theater - it's a great place to catch up on sleep.
Anything about you that might surprise people? I am not crazy.
Who'd you most like to see come into the restaurant for dinner? President Obama and the First Family.
Congratulations on your recent weight loss. Any tips you'd like to share? Quaker Instant Oatmeal and fresh fruit!
Most Recent Comment(s):