Don Murphy

By
.(JavaScript must be enabled to view this email address)
Friday - March 10, 2006
Share
|

Del.icio.us
|

Podcast
|
WineAndDineHawaii.com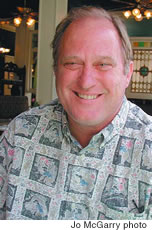 Don Murphy
As the owner of Murphy's Bar and Grill, Don Murphy is about to play host to the largest gathering (outside a sporting event) in the Pacific.
The annual St. Patrick's Day block party at Murphy's is legendary, with more than 12,000 people expected to enjoy the festivities this year. Before things get too crazy, we caught up with "Murph" to chat about the party and about how Murphy's has changed.
What was your first job in the industry?
Cleaning out the garbage room at Tommy's Drive Inn in Oklahoma City. The pay was a cheeseburger, fries and a milk shake.
Where did you go to school?
Central State College, Edmond, Okla.
Who would you say has had the most influence on your life so far?
Well, parents are the natural answer, but I would have to say that Dick Barry, my former employer and partner in the restaurant, had a huge influence on my life.
Has Murphy's changed much in the past 20 years or so?
Yes, I really think it has. It's more personal now because of the relationships we've formed over the years with both customers and employees. We're much more involved in the community, too, and with the university; that takes up a lot of our time.
Tell us what you remember about the first St Patrick's Day party.
It was just like a big party. We didn't really know what to expect. We closed off Merchant Street and had one band. It was terrific, but nothing like today. Today's takes so much planning and coordination that I'll start thinking about next year's on the 18th of March! All kidding aside, I've already started thinking about it!
Where are your favorite restaurants in town?
Roy's Hawaii Kai and Side Street Inn.
Favorite dishes there?
At Roy's we always order the seared ahi. It's the best. My wife, Marion, and I love to sit at the bar with Joel the bartender, and he always points us in the right direction.
At Side Street it's the pork chops - what else?
When we want a great glass of wine and some expertly done foie gras, then we go to Duc's Bistro.
What's your favorite dish on the menu at Murphy's?
The Irish Burger or our Gaelic Steak.
What's always in your fridge?
Peanut butter, mayonnaise and, hopefully, Saskatoon jam.
Who'd you most like to see come into Murphy's for dinner?
Oh, my dad. Just so I could be with him one more time.
Most Recent Comment(s):