Doris Hara

By
.(JavaScript must be enabled to view this email address)
Friday - February 15, 2008
Share
|

Del.icio.us
|

Podcast
|
WineAndDineHawaii.com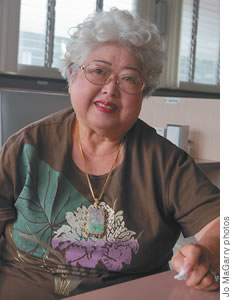 Doris Hara
Occupation: Owner Sekiya Restaurant (retired).
Age: 81
Your family has been in the restaurant business since 1935. That's an impressive history.
Yes, my mother started the business, then she moved to School Street and we moved here, to Kaimuki, in 1954. We built the building and we've been here ever since.
Your mom must have been a determined lady.
Yes, in those days we didn't have a bank to go to for a loan, so she put together a tanomoshi (an investor group) to raise the money.
Was this your first job?
Yes, my sister and I used to help. First we did simple things like make tempura, then we got to be cashiers and waitresses.
Did you always want to work in the restaurant?
I don't know if I did. I was kind of forced to do it in the beginning, I guess. Originally I was in beauty school and I wanted to be a hairdresser.
How did you market the business 50 or 60 years ago?
We didn't do anything (laughs). We just made food and opened the doors and hoped that people liked what we made. We didn't do anything special except cook.
What are the most popular Sekiya dishes?
The same things are popular today that were popular when we opened: our saimin and our barbecue sticks. We still do them the same way today - only difference is we don't use the hibachi to grill the barbecue sticks anymore.
How are you finding retirement?
(Laughs) Well, I still come down and help out where I can. I feel like helping, but it's a little harder nowadays.
What do you think has kept the restaurant alive for so long?
The saimin, the sauces, the way we cook and the customers who are loyal to us. Nothing has changed since we started, and people like that, I think.
Most Recent Comment(s):