Duc Nguyen

By
.(JavaScript must be enabled to view this email address)
Friday - January 09, 2009
Share
|

Del.icio.us
|

Podcast
|
WineAndDineHawaii.com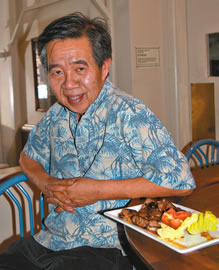 Duc Nguyen
Job Title:
Owner of Duc's Bistro, Chinatown.
Where were you born and raised?
I was born and raised in Phat Diem, a village in North Vietnam that's most famous for its church. I left there when I was 6 years old. That was 1954. And then I came to Hawaii in 1989.
Was food a big part of your culture? Did you grow up around restaurants?
No. I grew up very poor and something that we never had enough of was food. I absolutely used to dream of owning a restaurant so I would always have food to eat.
Is that why you re-created the food of your home - the street food of Vietnam - in a Little Bit of Saigon and in a different version at Duc's?
Yes, I think so. When you don't have enough, you are always looking for the food you missed. So for me, I was always searching for the flavors of the food I could never eat enough of. Most of the flavors of our food are from my memory.
Where did you open your first restaurant?
In Seattle in 1983. It was the first Little Bit of Saigon, and then I opened a pho restaurant, and they were both very successful.
And your move to Hawaii?
I came to Hawaii because my youngest son was very sick, and our doctor recommended we take him to a warm climate, and so we moved here. In 1989, I opened my first restaurant in Chinatown, A Little Bit of Saigon.
You changed the menu recently at Duc's, reducing prices and portion sizes and downsizing the menu. It's been very well-received.
Yes. I started to notice that people were not eating as much starch anymore and that at lunchtimes they wanted to eat smaller portions, so I figured out different dishes and made some items smaller and offered certain dishes a la carte. Everyone seems happy. It seems to suit everyone.
What lessons do you think you've learned throughout your life?
I think that I was very fortunate to be poor. Great fortune comes from unfortunate circumstances. Poverty makes you want to work hard and be better.
Is there anyone you'd love to cook for at Duc's?
I like to cook for everybody. I learn something from everyone who comes to dinner. I have yet to find a person who knows everything, and I also cannot find a person who knows nothing ... so I learn from everyone.
Duc's Bistro
1188 Maunakea St.
Honolulu
531-6325
Most Recent Comment(s):